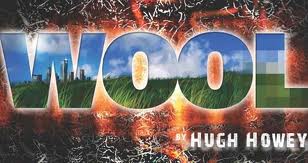 If you haven't heard of the novel Wool by Hugh Howey, then it's likely you will at some point in the near future. It has been hailed as science fiction's answer to 50 Shades, although only in the way that a self-publishing author has broken out, rather than any similarity in content. Wool began as a short story of just 60 pages, first published in July 2011. By the end of that year, Howey had added a further four parts to bring the story up to the generally-accepted idea of novel length. Momentum kept building throughout last year, to the point where today Howey enjoys all the trappings of a successful, A-list fiction author (Ridley Scott has the film rights, Random House are handling the print editions in most territories, and the book's Amazon page now boasts over 3,300 reviews).
So how did he do it?
Recently, under a review of Wool in a UK national newspaper, Hugh Howey joined the comments thread, and was at pains to point out the role of luck in his success. When one commentator wondered how he'd done it, Howey said: "I still don't know how it happened. If I had an answer, all of my books would be rocking the charts. They aren't. […] I attribute a lot of this to dumb luck. Things just take off sometimes. You can use post hoc arguments to search for reasons, but it could've been anyone."
Wool is based on the familiar science fiction trope of a group of last survivors on Earth, who live in silos below ground because the atmosphere outside is poisonous. Criticisms levelled at the book include a similarity to Hunger Games, Logan's Run, and that it is a novelisation of the computer game "Fallout 3". Howey's response is sanguine: "…my influences are more numerous than just a single show here or there. My characters and plotlines come from every TV show I've watched, every comic I've read, every book I've absorbed. I would wager that's true of all writers." However, a glance at Wool's more than 2,000 5-star reviews shows repeated praise for the skilled writing and faultless editing. Readers seem to be impressed with the language standards in this self-published book almost as much as with the story itself.
Regarding promoting Wool, Howey is adamant that he made almost no effort, due in large part to another series of books he was writing at that time. He said: "This story [Wool] was dying to get out, so I finally wrote it as a short story, published it, and forgot about it. I went back to my novels. In October (3 months later), the Wool novelette sold more in a month than I'd sold of everything else that year. I can only attribute this to word of mouth, as I never promoted the work, didn't have a link to it on my website, had effectively forgotten about it and ignored it." Howey does suggest that publishing the book a few short chapters at a time may have helped spur the increasing interest from October 2011 to January 2012, by which time the first literary agents had begun knocking on his door, sensing the bestseller it has become.
So what can other Independent Authors take away from this story? The indications point to tactics which are generally well known, but which bear repeating:
1. Having a backlist. At the time of releasing Wool, Howey had already published eight titles, selling in total about 5,000 copies. The point here is that he didn't just write a few titles then spend his free time on FaceTwit promoting them to death: he cracked on and kept writing more stories.
2. Practice makes perfect. Readers are very quick to rubbish a self-published book with poor use of English and which is full of typos, while many Indies complain that mainstream-published books have typos in them as well (not that this was ever an acceptable excuse for poor editing). In the reviews for Wool, we can see the flipside of this: reviewers express their amazement that a self-published book was not only so well written, but that it was typographically flawless. This is exactly what all Indies should aim for, and the more stories we write, the better we'll get.
3. The power of word of mouth. For all the talk of platforms and promotions and brands and blogs, as has always been the case word of mouth is what really counts. Readers need to be so moved by a story that they tell their friends, who tell their friends, etc. This was the catalyst for Wool: the word of mouth recommendation began the snowball effect which led to a Kindle daily deal, which led to more sales, which led to agents showing an interest. But without that original word of mouth, none of what followed could have happened.
In essence, Howey did what all authors try to do every day: write compelling stories as well as possible, but, as he insists, an element of luck may have been involved. Nevertheless, while his success is another step on the long road to the acceptance of Independent Authors by the general reading public, from his experience we can all draw one inescapable conclusion: If you write and publish one book, or two or three or four books, and promote them, but the word of mouth recommendations don't happen, then you have a clear choice: keep on with FaceTwit and hope, or knuckle down and write the next, better, story.