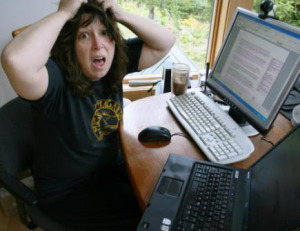 My oh my. I've been banging my head against the wall quite a lot lately. I've found so many book descriptions on Amazon.com that are not doing justice to the authors' books. Twenty words or less? More about the motivation to write it than about the story? Nothing more than a few reviews? An entire paragraph telling me how awesome the author is at flossing his/her teeth? Listen, there's a right place for everything. And the right place for the book description…is the book description. Potential customers want to know what the book is ABOUT, otherwise, how will they be able to tell if they want to read it? (If you need help writing your book's description, try this tutorial here.)
For authors who self-published their book, they can go into Createspace or Kindle and easily change the book's description. But, once the print and Kindle versions are merged, this may not reflect the description they'd prefer. Also, if you aren't the publisher of your book, and your requested changes have not been made, there is an alternative for you: your Amazon Author Central Page.
That's right, this is yet another benefit of having an Author Central Page. Please don't tell me you haven't set one up yet. I'm really tired and just don't have the energy to reach through the Internet and slap you upside the head. So, get your Author Central page set up. Here's a tutorial for that.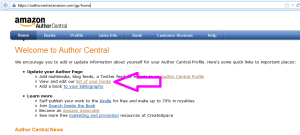 So, now, you have a book description that's been a thorn in your side? Let's fix that right now. Sign into your Author Central page by going to authorcentral.amazon.com. Log in. Once you're in, you'll get the screen to the left. Click on "list of your books."
Your list of books should appear on the next screen. It's so pretty, isn't it? You can actually do a lot of different things from this screen, but for the purpose of this tutorial, we're going to select the Snarkopaedia.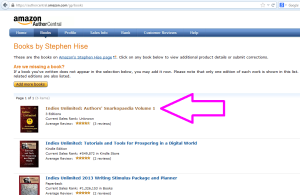 Well just O.M.G., right? Look at all the different stuff you can do (on the screen below)! You can edit your book's description, you can add reviews, you can put a special note from the author, you can add information about the author, and other stuff as well. So, see? You don't need to use the book description for all that other stuff. Hurray, right?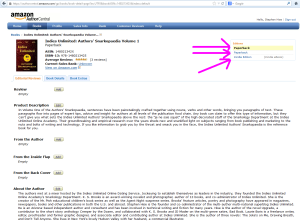 One important thing to keep in mind is that you need to make the change for EACH edition listed in the upper right hand corner. Making the change in one edition will not automatically trickle down to the others. Now, I'm not going to hold your hand through any changes here. They're extremely self-explanatory. Once you make your update, you'll get this friendly message from the folks at Amazon: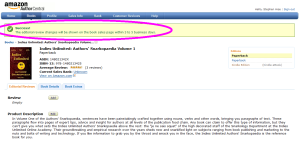 So there you have it! Take control of your books. Take control of your career. Take advantage of Author Central. Because if you don't, someone else will – and that might be the difference between selling books…and not selling books.