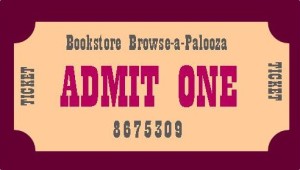 A recent story on The Bookseller, which appears to be a UK oriented website for those who sell books (who'd have guessed?), had a brief article quoting Victoria Barnsley, the CEO of HarperCollins UK and International, who suggested that brick and mortar bookstores might start charging customers to browse. The justification is that for many people the physical bookstore is acting as a storefront for online retailers. She went on to claim that some shoe stores in the US are charging customers to try on shoes for this same reason.
I volunteered to tackle this subject for Indies Unlimited and thought it would be easy. First, books aren't shoes. There was little context as to how widespread this is among shoe stores. I'm not a big shoe buyer, but have never heard of it. A quick check among my favorite shoe buyers from around the country was met with the internet equivalent of a blank look. But assuming some shoe stores are really doing this, I get it. Most people would be leery of buying a shoe without checking out the fit. When the shoe becomes something more suitable for Imelda Marcos' shoe rack than mine, the fit and the look would make trying before buying even more important. However, is there an equivalent need in buying a book? Do you check out the thickness of the paper or quality of the binding before deciding (assuming your plan is to buy a paper book)? Second, if the bookstores are going through a tough time getting customers in the door, is charging to visit going to increase revenue enough to make up for the people it will drive away? On its face, this idea seems ridiculous.
But I love to tilt at windmills, play Devil's Advocate, and use clichés, so I'm going to argue that maybe this makes more sense than it appears at first blush. (Oops, is three clichés in one sentence a record?) Barnsley's quote was from a BBC 4 Radio show. < http://www.thebookseller.com/news/barnsley-bookshops-could-charge-browsing.html > In addition to Barnsley, there were two other guests, the CEO of a literary agency and Michael Tamblyn, who is Chief Content Officer for Kobo. It lasted about 30 minutes and was far ranging with talk about self publishing, the future of publishers and bookstores, and the tradeoffs from a publisher's perspective of using DRM on ebooks. Well worth the listen if you have a half hour to burn.
One of the subjects they talked about was "discoverability." Barnsley said that Barnes & Noble had recently released a statistic that 40% of the people who came into their stores would leave empty handed, go home, and buy their books online. Her interpretation was that "you still need a physical bookshelf to actually discover stuff." I'll leave that thought floating in your brain while I go off on a tangent.
Most of the publishing pundits I've read seem to have roughly the same picture of the future of the brick and mortar bookstore, only differing in severity and timing in their predictions. I'll summarize these as bleak, describing the paper book as something that will become a "specialty market," not unlike how vinyl records are today. (Even Barnsley predicted that "specialist book shops" will survive, but the generalized bookstore will be as rare as a dodo bird.) These "experts" indicate that the way for a physical bookstore to survive is to become a "destination," with "events." Things like talks and book signings from authors. Maybe sponsoring book clubs.
Let's return to discoverability. Preceding Barnsley's comment about needing to have a physical bookshelf to "discover stuff" was a discussion from Tamblyn saying that an online book retailer's goal is to take an almost unlimited selection of books and narrow it down to a handful aimed a specific customer. The show's host, Evan Davis, responded to Barnsley's claim by pointing out how good the algorithms of online bookstores are in tailoring suggestions to the customer. For all of you who responded to her claim by screaming, "also boughts" or "you might also like" at the screen, you're right. (You also need to calm down.) I think the typical IU reader has made the transition to ebooks. But when I venture out of my indie-ebook bubble I'm constantly running into what I call the book fetishists. (Can I use that word here?) They "will never move to ebooks" because they love the feel and smell of paper. Where books are concerned, form matters more than function. If they're willing to pay a premium to hold the paper in their hand, even though (at least in the opinion of non-paper-sniffers) the reading experience for books that are primarily narrative is superior using an ereader. Why wouldn't someone who prefers the inferior method of discoverability provided by wandering the stacks in a bookstore also pay for the privilege? As paper books become more of a specialty product, maybe charging an admission for those unable to "find stuff" without seeing it on a physical shelf is just good business.