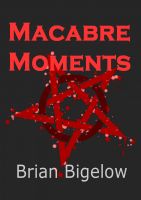 Author Brian Bigelow  is pleased to announce the release of his new collection of horror short stories, Macabre Moments.
A vicious vampire, a business deal gone wrong, a witch hunt, a machete wielding woman, a wife who's had enough and many more stories await you in this collection of short stories.
Sure to thrill and chill, this title is available from Amazon and Smashwords.