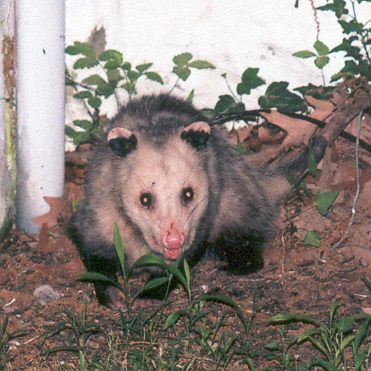 Paulie the possum has had it with eating berries and bugs. There's a nice trash can over there, just brimming with goodies.
He can smell the pizza crusts, half-eaten hamburgers and yummy melon rinds.
All he has to do is get around that sleeping little white yapper over there.
This should be no problem for a skilled ninja-like possum like Paulie.
In 250 words or less, tell us a story incorporating the elements in the picture. The 250 word limit will be strictly enforced.
Please keep language and subject matter to a PG-13 level.
Use the comment section below to submit your entry. Entries will be accepted until 5:00 PM Pacific Time on Tuesday, February 26th, 2013.
On Wednesday morning, we will open voting to the public with an online poll for the best writing entry accompanying the photo. Voting will be open until 5:00 PM Thursday.
On Friday morning, the winner will be recognized as we post the winning entry along with the picture as a feature. Best of luck to you all in your writing!
Entries only in the comment section. Other comments will be deleted. See HERE for additional information and terms.