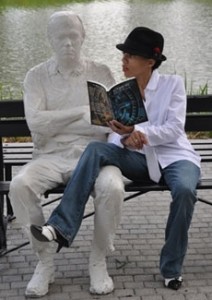 Guest Post
by Crystal Storm
When I first sat down to write Synarchy, a television series based off the books was the farthest thing from my mind. To be honest I don't think I ever really thought about it, not with any seriousness. Yet, here I am switch hitting between writing a book and writing for TV, two extremely different mediums that possibly only further proves I am completely schizophrenic.
But, first the story.
As most authors do in 2009 I had a part time job working at the Soniat House Hotel. It is an utterly charming boutique hotel hidden away on Chartres Street (pronounced Charters) in the French Quarter. It is a Small Luxury Hotel and during my tenure there I've met Rachel McAdams, Diane Lane, Val Kilmer and Jon Malkovich just to name a few. I can tell you that Rachel McAdams really does have a breathtaking smile, Diane Lane is a beautiful person, Val Kilmer is a little odd, and Jon Malkovich is an awesome individual.
The name I left off that list is Billy Zane. I worked the late shift 3-11, a really great shift for me since I am in no way a morning person. It was about 10 pm on a random night when the front door bell rang. I opened it up and low and behold there is Billy Zane. He wasn't alone, another gentlemen was standing with him, and introduced himself as Aaron Williams. Over the course of the next half hour I proceeded to show Billy Zane every available suite in the hotel. He settled on one, I checked in him and went home.
The next day, I was sitting at the front desk when Aaron came in. The Soniat House is famous for its breakfast biscuits and coffee so Aaron had dropped by early to sample them. Over the course of waiting he and I got to talking. Eventually it came out that I was an author. I gave him and Billy both a copy of Synarchy Book 1: The Awakening. I didn't expect much to come of it but, when opportunity knocks…
A year later, I was working on a night I shouldn't have been there. I'd had the day off, someone called out sick so I filled in. It was a very quiet evening when the phone rang. I answered and a man's voice began explaining that he'd been to this hotel a year or so ago, and a woman had been there who'd written a book. Chuckling, I responded that was me. Aaron went on to say he loved the concept of my novels and wanted to turn them into a movie. I was pretty flabbergasted and that's an understatement. That begin my journey, partnership and really great friendship with Aaron.
The most important thing I took from that experience is that as Authors we simply cannot be shy about putting ourselves out there. You never know when opportunity will strike, or in what form. It was a year before I heard from Aaron again, but because I took the opportunity not to be shy about what my real profession was it panned out in a huge way.
This is also another great reason to have a copies of your book and a business card on you at all times. I know eBooks are all the rage, and it's certainly not a medium you should ignore, but print is still important. You could be in a coffee shop, at your hair dresser, wherever, and you don't have to blatantly sell yourself. As authors I know we can be very introverted people so the business of "selling" is like a walk through hell. But, if someone asks what you do don't be afraid to say – "I'm a published author." Usually the next question is what do you write? If their eyes light up at your genre, or if they look the tiniest bit interested, close the deal. Offer your book, a website link, your business card, what have you. That small uncomfortable feeling sitting in your gut isn't worth not taking the opportunity to share your wonderful creation with someone else.
It's why you published isn't it?
[Stay tuned for Part 2 in this story when Crystal talks more about her journey into television. – The Editors]
*     *     *     *     *
DCS is the author of The Synarchy Series which includes The Awakening Book 1 and The Ascension Book 2. Currently sucking up the creative energy of New Orleans, she is hard at work at the next book in the Synarchy Series. Visit her website to learn more. You can also follow her on facebook, and check out her books on Amazon.com.