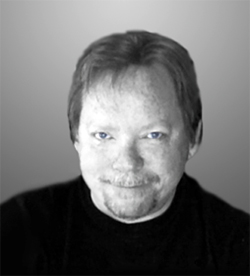 Welcome to The Learning Curve. This is where I chronicle my adventures as a new writer. The goal is to inspire you to put that bag of chips down, step away from the television, and tell the world a good story.
Writing is Not Easy – It's Magic
Writing is not easy. Well, technically it is but most of you know what I mean. You've been there. The constant interruptions during writing time, or even trying to find the time to write, can be a chore. Why do we do it? God knows, it's not for the money. If I just wanted people to see my name in print then I wouldn't have an unlisted phone number. Not that this seems to matter much as I average one telemarketing call per day. Okay, that's a different rant. My point is that writing is like having a second job. It's work. It's also magic.
Last month I talked about my writing journey over the previous year and offered the best advice I could for an author in training. I'll presume you took the advice to heart and started building a support group. You will need one. There will be pitfalls along the way and challenges you can't foresee. Believe it or not, you are the biggest obstacle in your way. You will need to overcome the desire to sit in front of another mindless episode of -> insert pointless reality show here <-. You will be tired from working all day and just want to relax. The list goes on. Just keep in mind that the only person keeping you from writing is you.
It all starts to sound rather depressing, but painting a rosy picture isn't my job. The reality is simple. Instead of finding an excuse not to write, find a reason to put words on paper and then make it a habit. You will make mistakes. Expect it. Read through a years' worth of this column and you'll get an idea of some easy ones to avoid.
Are you still with me? Good. Now that you know writing is work and about as glamorous as having your name in a phone book, let's talk about the magic. The world could use a little more magic.
Last month I started on a new writing project after shelving two unfinished manuscripts. For various reasons they lost their magic. You can read about it here if you're interested. The important thing is I found a project that excited me more than anything else I've worked on, and I couldn't wait to get started on it. Now, two weeks and 15k words into it the magic has returned.
What do I mean by magic? Good question. The magic is having characters in your head that are so interesting you think about them all day. There's a good book on the nightstand you want to read, but not until you play out the next scene of your story and jot down a few notes of dialogue. When you're in front of the computer writing one chapter and you immediately know where the next chapter, or the next scene is going. Sentences flow together, character voices fill your head and it's a rush to get it all out. It's magic. There's nothing quite like it. Well, almost nothing.
I should also point out this magic is addictive. Once you fall into a world you've created, surrounded by characters you love, or love to hate, there's no going back. American Idol will have lost a viewer.
Here's my pitch to you, new author in training: Write a short story this month and post it somewhere. Connect with me on Facebook and share the link to it. I'll give you honest feedback. My hope is to get you started, and then we'll go from there.