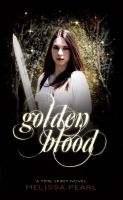 Golden Blood (Book 1 of Time Spirit Trilogy)
by Melissa Pearl
Genre: YA Paranormal Romance
60000 (appx) words
Gemma Hart never knows when her father is going to whisk her back in time. Her toes start tingling and she has a few minutes to find a secret haven where she can disintegrate and appear in another time and place. While "across the line," her training and skills are put to the test as she completes a mission that will change history for the lucky few her father has selected.
Gemma's parents are adamant that secrecy is paramount to her family's safety. If people knew what they were capable of, they could be "used and abused", as her mother always says. Afraid she might accidentally utter the truth and break the ancient oath of her people, Gemma spends her school days as a loner. Only one thing can throw her sheltered life askew… Harrison Granger.
Harrison never expected to talk to the strange Hart girl, but after a brief encounter he can't stop thinking about her. He begins a campaign to chisel away her icy veneer and is met with unexpected consequences. As he slowly wins this girl over, he enters a surreal world that has him fighting to keep his newfound love and his life.
This title is available from Amazon US, Amazon UK, Smashwords and Barnes and Noble.
Melissa, how did you come up with the title for your book? Does it have any special meaning?
Gemma's people disintergrate to gold dust when they travel back in time, so I thought the title Golden Blood might work, but I came up with a few more as options as well. While I was substitute teaching, I got each class to vote on their favourite. Golden Blood won in every class.
Who was your favorite character and why?
Gemma is pretty awesome. She comes across as shy and uncertain, but put her in a fight and she can kick some major butt. I like her contradictive character. She fears breaking the rules, but inside is desperate to break free. I love her journey through this story.
Does your book have any underlying theme, message, or moral?
This trilogy is ultimately about breaking free. The first book is about Gemma realizing that the life mapped out for her isn't actually the one she wants. It's also about her discovering that she actually has the strength to stand up and fight for something that is really important to her.
What would/could a reader or reviewer say about your writing that shows they "get" you as an author?
I like reading reviews that say "I read the book in one sitting. I just couldn't put it down." As a writer that is my goal. I want to write books that are easy to read, easy to get drawn into and at the end of the book you feel like you've lived a small adventure.
Give us an excerpted quote from your favorite review of this book:
I read this book so fast my head was spinning. Such an easy and engaging read! The characters come to life off the page and burrow down inside your heart right off the bat.
Where can people learn more about your writing?
http://melissapearl.blogspot.co.nz/