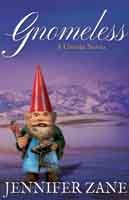 Gnomeless
by Jennifer Zane
Genre: Contemporary Romance
45,000 words
Veronica Miller is a plumber on a mission–buy out her dad and the family business is finally hers. One big, handsome problem stands in her way. And it's not a clogged toilet.
Jack Reid is the boy she mooned over in high school. He's back in town, but he's no longer a boy. Ten years ago he broke her heart, skipped town and never came back. Now he's a big shot lawyer in Florida whose uncle feigned a health crisis to trick Jack into coming back into town. Upon arrival Jack finds his uncle is gone, he's homeless, and forced to be roommates with the one woman he could never resist.
Jack discovers his lust hasn't cooled for the sexy Veronica, but neither has her heart forgiven him. A sex-toy educational party, romance novel writing gone awry, Goldie's meddling, an escape artist snake, a strange stalker in a fluffy pink coat, a house fire, plumbing gone awry, bitter cold, and a smart-faced garden gnome all conspire to force Jack and Veronica to work through a decade of baggage, disappointment, and unrequited lust while figuring out the mystery behind the stalker. Hilarity ensues on every page of this sequel to Gnome On The Range.
This title is available from Amazon US and Amazon UK.
Jennifer, how did you come up with the title for your book? Does it have any special meaning?
This is second in the Gnome Novel series and they both (and future books) have the word Gnome in it.
Who was your favorite character and why?
Goldie because she thinks all problems can be solved with a box of sex toys. And, she doesn't care what anyone thinks.
Does your book have any underlying theme, message, or moral?
A gnome picked up at a garage sale in the first book is a continuous theme through the two books, and into the in-progress third as well.
What would/could a reader or reviewer say about your writing that shows they "get" you as an author?
I take real-life situations and twist them around so there's calamity mixed in. Everyone has ridiculous things happen in their lives so they can relate to the characters—and what happens to them–in the book.
Give us an excerpted quote from your favorite review of this book:
"Along with a gnome, a plumbing van, and a shotgun filled with birdseed, 'Miller' and Jack grapple with their past and their libidos in this fast, fun read."
Where can people learn more about your writing? 
www.jenniferzane.com