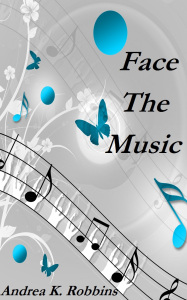 Today, we feature a sneak peek of Andrea K. Robbins' contemporary romance, Face the Music.
As she's grieving the loss of her mother, Allison's long-term boyfriend walks out. To cope, the 24-year-old closes herself off to serious relationships and dives into her work as a student. To add to the pressure, Allison is responsible for her younger sister, niece, and disabled grandmother.
Needing the income, Allison takes a job for the reality show, Superstardom. Captivated by the competition's front-runner, the sexy singer, Chris Knots, Allison dismisses her attraction. When the hunky performer reveals an interest of his own, Allison must work through her past and decide if there's room in her life for something more.
Face the Music is available through Amazon.com, Barnes & Noble, Smashwords and other online stores. And, for Indies Unlimited readers, a special price of 99 cents at Smashwords – enter the code GY65P at checkout. This offer is good through September 1st, 2012.
Here is an excerpt from Face the Music:
He said something else, but the music was too loud. I pointed to my ear and shook my head, signaling that I couldn't hear.
"Do you wanna dance?" he asked, a bit louder than before.
I thought about it for an entire second but decided it was probably better if I just steered clear of this guy. I didn't trust myself to keep my head, especially with the alcohol in my system. Getting involved with him was the last thing I needed. Even though he was sexy as hell.
"No. Sorry, I'm here with my sister."
He looked taken aback, as if I'd caught him off guard. Poor baby, I thought, trying to stifle a laugh. He wasn't used to rejection.
"Oh, come on, one won't hurt. I won't tell anyone." His dark eyes burned into mine, daring me to refuse again.
All my willpower melted away. It wasn't fair.
He had all kinds of wild moves I couldn't keep up with. I mostly just stood there, bending my knees and swinging my hips while he danced circles around me. At one point, he pulled my arms up over my head and spun me around. I twirled like a stiff board, nearly toppling to one side. "Loosen up!" he laughed.
I was relieved when a slower song came on. Taking one of my hands into his own, he pushed the other against the small of my back and pulled me close. He was at least six inches taller than me; the top of my head didn't even reach the bottom of his chin. The combination of dancing, alcohol, and being pressed up against his hard body had me sizzling. Streams of sweat trickled down my back.
He rested the side of his chin against my sweaty temple. "Are you having fun?"
"Yes," I said, feeling dazed. It felt like warm, smooth honey was circulating through my veins.
"Good." He tilted his head down and focused on me and me alone, despite all the other people around us. Moving slowly and purposefully, as if he were looking for some excuse to touch me, he reached up and swept a damp curl off my forehead.
I was speechless, rendered in a dreamlike state, when, out of nowhere, a crowd of people- adoring fans, most likely- advanced towards him and pushed me off to the side.
And just like that, I was released from whatever trance he had put me in. Leaving him to his fans, I went back to my table and thought about what had just happened. It was like he'd taken complete control of my mind, put me under some sort of spell. Never before had I felt so powerless.
Chris Knots wasn't just some random cute guy off the street. He knew exactly what he was doing. I wondered how many women had fallen victim to his charms, found themselves defenseless against that smile. I was really going to have to keep my guard up with this one.
---