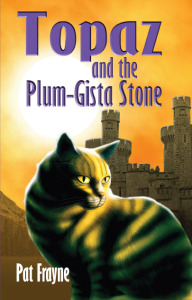 Today we have a sneak peek from author Pat Frayne's young adult fantasy book, Topaz and the Plum-Gista Stone (Book 2 of the Tales of Topaz the Yellow Conjure Cat):
Topaz and his raccoon friend, Dooley, face life-threatening dangers when they try to help an old friend. Circumstances beyond their control force them to travel to a forbidden land in search of a rare and precious stone. Terrifying events cause Topaz to wonder if his conjure powers will be enough to protect them as dark magical forces begin to close in.
Topaz and the Plum-Gista Stone is available from Amazon.com, Amazon UK, and Barnes & Noble.com.
And now, an excerpt from Topaz and the Plum-Gista Stone… Topaz turned to Daisy. His eyes softened as he spoke to her. "Daisy, there is something I need you to do. It may seem like a little thing, yet, it is important."
Daisy nodded. Her large hazel eyes, never so serious, gazed into his.
"Someone has to stay here and keep up the great owl's spirits. You and I, we're like family to Otis. It should be one of us, but I must go after the precious stone." Daisy nodded again to show she understood.
Topaz went on to explain more. "Good, Daisy. You may tell Otis I have gone on a journey to retrieve the Plum-Gista Stone. Tell him it will heal his eyesight, but, please, don't say anymore than you must. It would be better not to mention the Sprite or the Witch of Strang. The less Otis knows about where I'll be going, the better it will be for him lest he should worry. Daisy, do you think you'll be able to do this?"
The intense luminous eyes bore into hers, but this time, Daisy did not feel the least bit disturbed. Her heart had been gladdened by the conjure cat's trust in her. Daisy nodded to confirm that she would do her part.
She'd do her best not to let her friends down. She understood Topaz would be traveling to a dangerous land. It worried her, and she was frightened for Topaz. At the same time, a small part of her longed to go with him. Yet, she knew he would not let her come on this journey. Not only because it wouldn't be safe, but because Otis really did need her.