Today is December 1st, one month left in 2012!
Wow, it's TIME to kick back and s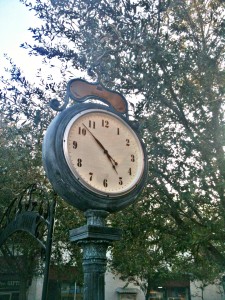 lide into cruise control, right?
Wrong.
You see, the rest of the world will be slowing down and paying less attention to their businesses. Holiday parties will be rolling through—you get up a little later, take a couple of days off from writing.
That doesn't have to be you! First, let me suggest. I'm not Scrooge. I LOVE the holidays. Think about it though, while the rest of the world slows down— it's a perfect opportunity for you to pick up the pace.
Now is the time of the year to reach out to people, and your platform, without selling them anything. Now is the time to revisit your plans and start planning for next year.
As we burn through the year, we look for ways to make our marketing easier, to reach more people.
Guess what, each step we take in that direction makes it less personable.
I know that we can't reach out to everyone personally, but make an effort this month to reconnect with the people who have helped you get where you are today. Look for ways to promote others and help them get their projects off the ground.
Meanwhile, go to work. Time is the one thing we can't get back. If the month flies by, that's another 50,000 words you won't get written. Why not make it your goal to make this the most productive December ever. Think of all the new Kindles, Nooks and iPads that will land in new hands this year during the holidays. That's millions of potential new customers.
Don't fall behind the Holiday Hiccup. Get ahead of it and grab that new audience that can't wait to download your book. Don't have a new book coming out? So what! This new audience doesn't care if it is old or new, it's new to them. I've perfected that; I haven't published a new book since April of 2011 and I still sell the old one like it was just released.
Take time to plan and reflect. Put the changes into place now, not January. Write down your goals and schedule. Blow up this December. Do what you said you would do last January. Solidify yourself as a professional writer, an author, someone who writes for a living. Even if you have a 'day' job, get serious about your writing time now.
When January arrives, everyone else will be figuring out what to do and you will already be doing it.