Help A Reporter (HARO) is a handy tool for authors in two ways. HARO can help you find a source to interview when researching a book, and it can provide you with publicity and other related opportunities that you couldn't have found on your own.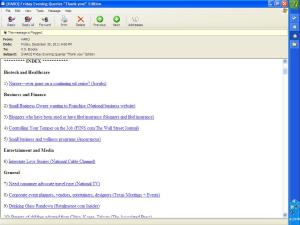 Signing up for HARO is free. Just go to their home page and click "sign up today." Yes, HARO does now offer pay packages, but if you scroll down to the bottom of the page – you will see the Basic page is still available for free. What does this mean? Well, three times a day you will receive a HARO email with a list of stories being worked on by reporters who need sources to interview. Not all of these are newspaper reporters – they are bloggers, authors, television shows, magazines and more. The stories are organized according to category, and if you see one that interests you, just click on it and it will bring you to the details further down in the email. The key to getting reporters interested in your "pitch" is to make sure you respond immediately. These emails go out to thousands of people, and whoever replies first is going to get their attention. Be concise with your pitch and be quick.
How can this work? you wonder. Well, it really does. I've been interviewed and featured in articles in AOL Weird News (yeah, yeah, I know), eHow.com, and it even landed Mr. Pish in the top of the world of dogs in Fido Friendly Magazine. I've been interviewed and quoted in a number of books, blogs and magazines thanks to HARO. Does that help sell books? I dunno. But press is press and good press is even better.
As a research tool, HARO has been invaluable. From my evil mountain hide-out, how else would I find sources who could tell me about Vienna, Austria? How else could I interview professional hockey players from the comfort of my lair? I've received great input from sources – which gave me insight into my story I couldn't have gotten otherwise.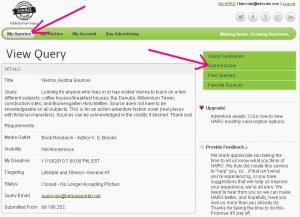 To submit a query, just click on "My Queries" in the top navigation bar, then click on "Submit Query" in the right-hand green box. Once you've filled in all your information, click the blue "Submit Query" box at the bottom of the screen. When you're done, it should look something like this (screen at left). Then, just sit back and wait for the HARO email to go out, and for the pitches to come in from people who have knowledge in the area(s) you need.
I won't lie and say it's easy. It's not. You have to pay attention, you have to read the emails, and you have to reply immediately if an opportunity in your area of expertise comes along. Not all your pitches will be acknowledged – and sometimes you won't even know an interview is used. That's why you should set up Google Alerts to track your name.
HARO is great if you have expertise in a number of different areas besides writing. Travel, health, technology and lifestyle are always active categories. If you don't use it for publicity, it's still a great tool for research. Either way, you can't go wrong.