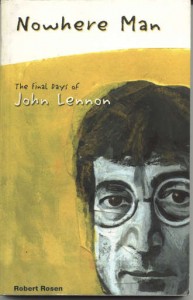 Nowhere Man: The Final Days of John Lennon
by Robert Rosen
The "official" version of John's five-year tenure as househusband was one of domestic bliss. In reality, Lennon's daily life at the Dakota drifted between contradictory desires and minor obsessions—all magnified by the tedium of isolation.
Nowhere Man is an intimate journey through Lennon's last years, carrying us from his self-imposed seclusion to his re-entry into public life with the making of Double Fantasy. Rosen does not let us go until we've faced the abrupt and tragic fate of one of the most creative minds of our time.
This title is available from Amazon US,  Amazon UK, and Barnes and Noble.
And now, here is a sneak peek from Nowhere Man:
BEING RICH
"If I hadn't made money honestly, I'd have been a criminal. I was just born to be rich."
New York City, Wednesday, January 9, 12:06 P.M.–The words astounded John Lennon as he stared at the caption beneath the old photograph of himself in The National Enquirer. He remembered thinking them but had no recollection of ever saying them out loud. Though he loved reading about himself in the tabloids, he hadn't spoken to a reporter in five years. He hated the motherf****rs. Since he'd gone into seclusion, virtually everything they wrote about him was libelous fantasy. But there was nothing he could do about it. He was fair game. It had been open season on Lennon for 18 years. Still, he had to admit, it was flattering that the press couldn't get along without him and Yoko.
At the advanced age of 39, he was mellowing, learning a bit of self-control. He no longer screamed primally when he came upon a fabricated "exclusive" written by a hack he'd never met, claiming that John Lennon had gone bald or completely insane.
But this nameless Enquirer reporter was clearly not a person to be trifled with. Does he have psychic powers? Can he read my mind? Is he with the CIA? Is my phone tapped again? Is there an internal security leak? Did Yoko tell him? Is it done by satellite? What else do they know?
So taken by the quotation was Lennon that he clipped it and pasted it on the first page of his 1980 New Yorker magazine desk diary.
***
Something was terribly wrong with John Lennon and his wife, Yoko Ono, as the new decade dawned on the Dakota. Their lives were falling apart. John's annual prayer for the continued enjoyment of his health and wealth had apparently fallen upon deaf ears. The situation had become so desperate that servants speculated among themselves about the possibility of a double suicide. But that was mostly wishful thinking. Suicide was out of the question. There was at least one thing John was sure of: he did not want his son Sean to grow up an orphan. And he believed deeply in the existence of God. If he killed himself, there'd be a terrible karmic price to pay. But mostly, a double suicide would make too many of the wrong people rich.
The strain of a life gone out of control showed in Yoko's face. One month short of 47, she was beginning to look like an old woman. Menopause loomed. Gofers were routinely dispatched to Europe to import large quantities of hormonal rejuvenation pills and creams unavailable in the United States. Stay young at any cost. Money is no object. Ignore the fact that the odds of ever being a rock star in your own right have gone from slim to nil.
Acute depression hung in the air and it showed in John's writing. Since retiring from the music business in late 1975, after Sean was born, he compulsively poured all his creative energies into keeping diaries.
---