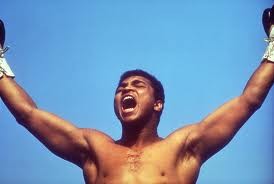 Bravado and bragging worked for Muhammad Ali but it is a different story for authors. (Sorry about the pun.) Now, I might be behaving like a jumped up Brit about this subject, after all, I am one of those old-fashioned sort who opens doors for old people and still manages to say "thank you" when the spotty-faced individual in the coffee shop manages to slop coffee into my saucer.
I am polite. I was brought up to be polite. So when it comes to selling books, I don't like to be too pushy. I believe people should be able to read the blurb and decide if they want to buy the book or not. The fact I'm willing to throw in a free stiletto key ring, and an extra signed copy for their Gran doesn't amount to being pushy, does it?
In my opinion, there is absolutely no excuse to behave like a used car salesperson trying to sell an old crock of a car when marketing a book. Wandering about cyber space as I do, I have seen way too many turn-offs recently.
As authors, we need to promote our books, but there is a right and a wrong way to market and wanting to sell a book is no excuse for doing things to irritate and put off potential readers.
Here is my Mini Guide on How to "Cheese off" Your Potential Reader:
"This is the best thing since sliced bread."
1. Who needs endorsements by celebrities, experts, fellow authors or reviewers? Do it yourself. Write your own endorsements. Don't mince your words. Be positive. Write a rock solid statement like "This is the best book in the Universe," then sign your endorsement "A doctor from Washington" or "Her Royal Highness Pippa Von Achthofen". No one will suspect they are not real people.
2. Fabricate a testimonial or review. This is easily done on Amazon. Sign up, give yourself a plausible name like Lady Gaga, and write a spiffing review for your book. Don't forget to give yourself 5 stars too. If it is the only review you have, so much the better. People will look at it and be astounded at what a fantastic read your book is. Never mind that other books have lots of reviews and various star ratings. You have this perfect one.
Better still, get your neighbours or relatives to write a review for you and sign it. Make sure your mother puts "Mum" under hers. We readers are much more likely to buy your book if your Mum enjoyed it. Who wouldn't trust the opinion of a mother?
Try neighbours too. Who knows if Rex Von Woofenbark is a reviewer or your neighbour. He could be a dog for all we know.
3. Make sure you connect with other authors on Twitface. Follow them and "like" their pages. The more the merrier. When you have collected a few hundred names, put your book covers on their walls, timelines and pages. Don't worry about annoying them, they are authors too. They'll be impressed by your initiative.
Write tweets saying "This book is a must-read", not forgetting the all important link to where you can buy it. Who better to judge if your book is good or not? You wrote it of course, so you know it is brilliant.
4. Send repetitive and unwanted emails telling people about your fantastic book. They'll eventually give in and buy it, won't they?
5. Finally, if you ever get the chance to do a book signing or go to a book fair, make sure that no one gets through the door without marching up to them and directing them to your book, even if they only wanted directions to the Tourist Office. Ask questions like "What can I do, to get you to buy my book?"
Be brash. Be bullish and brag. Surely, it'll pay off. If not, you could always use your training, have a change of career and become a car salesman.