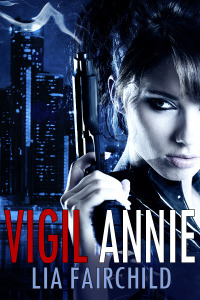 Author Lia Fairchild is pleased to announce the release of her new thriller, Vigil Annie.
Annie Crawford is an ex-cop living a double life. After her fiancé is murdered and she is left for dead, she's desperate and seeking vengeance. She turns to a vigilante agency headed by a man with his own secrets. Annie works for them as they investigate the murder.
Now working on the wrong side of the law, Annie's life has one purpose: justice. For her fiancé and the city she lives in. But as Annie's strength grows, the agency struggles to control her. And the deeper Annie sinks into this new life the more she fears she may never return.
Vigil Annie was released on November 1, 2012 and is available through Amazon.com, Amazon UK, and Barnes & Noble.
---