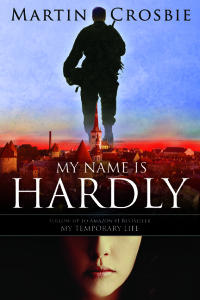 Author Martin Crosbie is pleased to announce the release of his new suspense thriller, My Name Is Hardly.
Officially, the British government called it a state of unrest. In Northern Ireland, in 1996, they called it "The Troubles".
Gerald "Hardly" McDougall is a forgotten man. He's abused, bullied, and left behind. The only escape left is to join the British Army. At first, he's a reluctant soldier and the Army doesn't know what to do with him. Everything changes when tensions in Ireland escalate and the Army need a soldier with a particular set of characteristics. Hardly's re-assigned and sent into the heart of the troubles, living in the same houses as the IRA soldiers he's fighting against.
My Name Is Hardly, the follow-up book to the #1 Amazon best seller My Temporary Life, was released on December 10, 2012 and is currently available from Amazon.com, and Amazon UK.