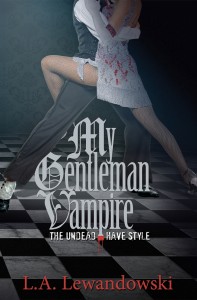 Author L. A. Lewandowski is pleased to announce the release of her new modern vampire novel, My Gentleman Vampire: The Undead Have Style.
Natalie Crisan is reeling from her boyfriend's betrayal. Karma works its magic as a new man enters her life–a fabulous creature whose style and "joie de vivre" shock her out of self-pity. David Fanning's prescription is novel: a fashion makeover, a tango competition, and a new social circle are the cure. When a sexy scoundrel decides Natalie is to be his next lover, her growing attraction to him threatens her newfound emotional equilibrium. Seduced by the excitement of this dark world, the undead either adore her or want to drain her blood. Can a tango's revenge and her gentleman vampire save her?
My Gentleman Vampire: The Undead Have Style was released on November 23, 2012 and is available through Amazon.com and Amazon UK.
---