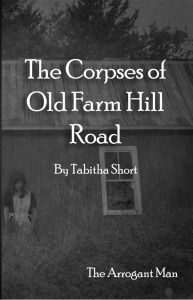 Today we have a sneak peek from author Tabitha Short's new horror short story, The Corpses of Old Farm Hill Road.
He wakes up every morning knowing the world owes him something. Every woman was created for his demand, except for Vanessa Roundtree and her mother. Once lured onto their farm in the middle of nowhere he becomes their prey. As they torment his body, they break down his arrogance. Will he be able to escape? Or will he become just another of the corpses of Old Farm Hill Road?
The Corpses of Old Farm Hill Road  is available through Amazon.com, Amazon UK, and Smashwords.
And now, an excerpt from The Corpses of Old Farm Hill Road:
His face lit up as his hand gripped the handle of the car door. His entire body felt relief and his chest rattled with cries of happiness. He pulled the handle and the familiar sound of the car door opening that met his ears brought an unsurpassable amount of joy. He climbed into the driver's seat, arranging his broken leg with his unbroken arm. It was excruciating, but he had to get through it to get away. He was almost there. Sweat beaded up on his forehead and he prayed he wouldn't pass out again. He just needed a few more hours of consciousness to get out alive.
As his breaths slowed he felt his way to the ignition switch to start the engine. His heart sank when he discovered the keys were not in the ignition. No worries, I can hot wire it, he said to himself. The wiring was easy to find, hidden behind an access cover. Fumbling with the wires because of his swollen fingers, he quickly found the two he needed. Bending forward was agonizing, but he managed it and used his teeth to strip the wires. He twisted the copper strands together and found the purple wire. It gave him a little bit of trouble, but he was able to skin the plastic covering from it as well.
He heard a loud clunk on the hood of the car and his head jerked to attention. Standing in front of the vehicle was Vanessa. She was jingling the keys in her hand.
"You…are…one…stupid girl," he said aloud, most of it coming out as nothing more than mumbles. He hit the wires together and the engine stuttered and then came to life. He laughed heartily, his chest rising and falling painfully. He glanced out the front windshield, ready to enjoy the look on the stupid girl's face, but she was not there. His fingers quickly moved to lock the doors just as he heard her grip the handle. She was at his driver's side window.
Her face grew angry when she could not open the door. She removed her shirt, wrapped it around her fist and began hitting the driver's side window, trying to bust it. Mathew put the car in reverse, looked over his shoulder and began to back down the driveway. He was free! As the car rolled down the curved driveway, Vanessa ran after it. He laughed out loud and considered running her over, but thought against it as he neared the end of the driveway.
Buy Professional Cialis
---