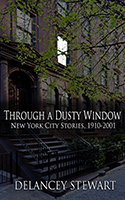 Through a Dusty Window: New York City Stories 1910-2001
by Delancey Stewart
Genre: Historical Fiction, Literary Fiction, Short Stories
Word count: 20,450
It's impossible to live in a city like New York without feeling the presence of those who have preceded you – on those streets, in those subway cars, in that apartment. The city thrums with vibrations of lives and eras passed, and traces of that history are left imprinted in tangible ways everywhere we look.
Through a Dusty Window is a collection of ten short stories spanning a century of lives inhabiting one New York City brownstone on the Upper West Side. They are the culmination of the author's experience in that city, during which she wondered constantly who had occupied her apartment before her, and what stories they might have lived.
Ten vignettes offer historical perspective on real events from Prohibition to World War II; the Vietnam-era Summer of Sam killings to John Lennon's murder.
Through a Dusty Window allows us to be voyeurs, seeing the fascinating lives of others as they experience the history that New Yorkers today hear whispers of around every corner.
This book is available through Amazon.
Delancey, how did you come up with the title for your book? Does it have any special meaning? 
The title offers an explanation of exactly what the book is – a view through the window of time into one building over the course of a century.
Who was your favorite character and why?
I've always felt closest to Hazel Bledsoe in the story "1953: The Harbinger." She is so painfully misunderstood with such tragic consequences. It's just an idea that sticks with me.
Does your book have any underlying theme, message, or moral? 
It follows the development of culture in New York City through a century. These stories explore many themes, but overarching might be the concept of one human being never truly knowing another, despite physical proximity.
What would/could a reader or reviewer say about this book that shows they "get" you as an author?
I'd love to hear that I successfully captured multiple voices and multiple points of view through the course of these stories.
Give us an excerpted quote from your favorite review of this book: 
The brownstone itself became a character. One could easily imagine that pile of bricks as a breathing entity, absorbing the highs and lows of the various occupants over the decades.
Where can people learn more about your writing? 
http://delanceystewart.wordpress.com