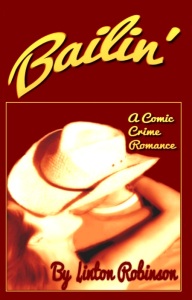 Author Linton Robinson is pleased to announce the release of his new romantic crime comedy, Bailin'.
Lovebird bank robbers Cole and Bunny were doing OK shooting and looting and hot-wheeling in Texas, but now they've got a millionaire embezzler on their hands. And are dealing with bounty hunters, the law, a psycho hitman, and nutso border bikers with a rocket chopper. But they still manage to get the drop, crack the jokes, and smooch up a storm. Comic crime with a unique twist, but also a cock-eyed romance.
Bailin' was released in January 2013 by Adoro Books and is currently available from Amazon.com and Amazon UK.