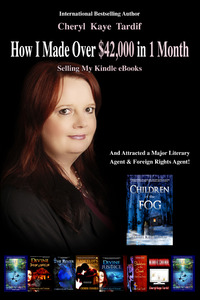 When I picked up this book (on a KDP Select free day), I was sure I was going to hate it. I figured it would be another rehash of all the information that's available on the web for free to any indie author with the brains to parse a Google search.
But then I read the first couple of chapters, and realized that maybe Tardif knew what she was talking about. Like many of us, she got burned by a vanity publisher; she got burned again by a badly-managed small press; she spent years schlepping her paperbacks from one personal appearance to another; and then she found KDP Select. Lucky for her, she hit Select in January 2012, when it was in its glory days; the $42,000 month she refers to in her title is March 2012, before Amazon instituted the big algorithm change that made KDP Select much less of a cash cow for indies.
That was then. What about now? Tardif told me via e-mail:
"This is what I observed after the May algo change, with my titles and those I publish via Imajin Books:
"1. It became harder to get into the Top 100 Free, but not impossible. I did it again.
"2. It became harder to get into the Top 100 Paid, but not impossible. I did it again.
"3. Two day promos no longer worked as effectively as 3 days, and now 4 days are what many books need to get onto those lists. 1 day promos are a complete waste of time and those doing them don't understand LEVERAGE."
She went on to say that an author can build that all-important leverage by following the other steps in her book, which include the usual stuff: a compelling cover image, a blurb that grabs potential readers, a thoroughly-edited story, a social media platform, and so on.
So despite Amazon's algorithm tinkering, Tardif is still a big believer in KDP Select. She points out that participation in the Kindle Owners Lending Library is only available to e-books enrolled in KDP Select; she says two of her books last month had more borrows than sales. (Personally, I had just one borrow of my e-book during its KDP Select run, and I've heard of other indies having similar results.) So no, she won't be abandoning Select any time soon. "I have not withdrawn any of my titles since I enrolled them early last year," she said. "Why? Because I'm making damned good money, far more than I've ever made with the other retailers, even if I add them all up for the two years I've used them."
She makes a compelling point for those of us whose books sell best on Amazon. And I did get some other useful information from the book, including the clearest explanation of the usefulness of Twitter hashtags that I've ever read anywhere.
However, I wish she had done a little more tweaking to the middle chapters, which consist of mostly-unedited blog posts from her KDP Select run last January. She also might want to think about updating the book to include the changes she has made to her strategy after the algorithm change. That would make it a much more useful read for indies in 2013.