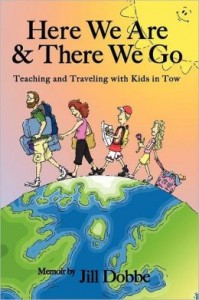 Here We Are & There We Go: Teaching and Traveling With Kids in Tow
by Jill Dobbe
Genre: Travel Memoir
Word count: 60,000
Who says you can't travel with kids? Dan and I find out we can do just that as we set off with our two very young kids, first to live and work on an island far out in the Pacific, then on to the continent of Africa with a few stops in between. Armed with strollers, diapers, and too much luggage, we travel to over twenty-five countries throughout a ten year span, while working together as international overseas educators.
After surviving typhoon Yuri, almost being mauled by lions, and, nearly being shot by a presidential guard, we happily endure all of the good times and bad, while living life to the fullest. A decade's worth of experiences and lifelong memories remain with us, as we return to the U.S., now with two teenagers in tow, and begin to experience our very own version of reverse culture shock.
Here We Are & There We Go chronicles our family's ten years of living and teaching in overseas schools in four different countries (Ghana, Singapore, Guam, Mexico) and the crazy, hilarious, and sometimes scary situations we found ourselves in. It is a travel memoir about what our family of four experienced while living with other cultures, learning new languages, and literally traveling around the world. It is a book that everyone can relate to even armchair travelers and others who are or aren't considering traveling or living abroad with or without kids.
This book is available from Amazon and Barnes & Noble.
Jill, what was the hardest part of this book to write/research?
Those ten years of living overseas, which I wrote about occurred in 1990-2000. It was a long time ago and I found it difficult to remember some of the things that happened to us. My impressions and feelings of that time period were still intact, but my husband and I did do a lot of brainstorming together. I also kept a journal that we eventually found again and read again. Actually, my adult son found it and read it first and told me that I should use it for my memoir. Also, it was nice to have Google to look up some of those names and places that I had completely forgotten about.
Does your book have any underlying theme, message, or moral?
I started writing my travel memoir with the theme in mind that yes, you can travel with kids. However, it is about much more than that and chronicles our adventures as a family and how we had to rely on each other for pretty much everything. I also wanted to relay to readers a little bit of what it is like to be an overseas educator and what can be gained from a lifestyle of working and traveling the world.
What would/could a reader or reviewer say about this book that shows they "get" you as an author?
I have had a couple of reviewers/readers comment while reading my book they felt like they were sitting with me having a coffee and chatting about my travels. My style of writing is personable and honest with a little bit of my sense of humor added. My writing style has even been called "folksy."
Give us an excerpted quote from your favorite review of this book:
"I find Jill Dobbe's style charming and very conversational so that after reading the book, I feel as if I am talking to a good friend about her unforgettable adventures. Everyone with the itch to travel should read this book."
Where can people learn more about your writing?  www.facebook.com/JillDobbeAuthor