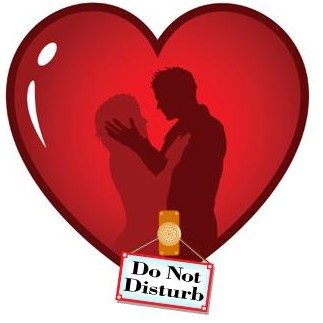 There has been some discussion lately about how to write sex scenes in effective ways. Perhaps Valentine's Day got us thinking in that direction. In any case, it gave me pause for thought.
Recently I had the privilege of critiquing such a scene for a fellow writer. She's amazing but has a very different style and writes in a different genre. The scene I read really got me … well … you know. Just as it was intended to. And she did it without graphic descriptions of body parts like heaving bosoms and … well, you get the idea.
I don't write steamy scenes in my books. I got to thinking about why that is. And why hers was so effective and appropriate. My initial reaction was to feel inferior, like maybe I don't have the skill to write such a scene. Then I recalled a couple of 'inner fantasy' scenes I had written a while back, scenes that will never see the light of day, and realised that this is not true. Those were very erotic, possibly even pornographic.
Which made me think about the appropriateness of sex scenes and where, when, and how they can enhance or detract from a novel. And I came to the conclusion that the answers to all of those lie mostly in the genre in which we write.
My friend's WIP is what I would call a historical romance – although it is also fantasy and several cuts above the popular bodice rippers I used to enjoy but have grown out of because they are too formula. Her work's primary theme is the development of a romantic relationship under unusually strained circumstances. So my friend has woven sexual tension on some level into many of her scenes, even those that have no sex in them whatsoever. It's that tension that drives much of the book forward, which makes the erotic scene I read perfectly appropriate.
I also thought about the few sex scenes in my first book and the role they play. And to wonder why my second book has none at all, the third one only one. (It's not finished yet.) My genre is fantasy – what I would describe as old world fantasy. Each of those scenes is very different from the others. The first a light-hearted consummation of a political union, one a gang rape, another of a prostitute giving a lesson to a man who wants to make sure he does not frighten his lady-love and the last, a scene of healing from the previously mentioned rape. None of them are graphic, physically. I focus on the emotions of the characters, not their physical aspects. Before writing this post I reread them to confirm that they achieved what I wanted. They did, much to my relief.
I also recalled scenes from a few mysteries I have read and the way they were handled in that genre. The most effective ones were the least graphic and also stayed within the style of the rest of the book. While I do not read YA I can deduce that romantic episodes would be handled quite differently there.
Lastly, scenes in erotica and porn, which have titillation as their primary purpose, can appropriately be much more graphic, physically. Even here, I question the effectiveness of a graphic approach.
I think that most of us will agree that we must approach writing sex scenes in a way that fits the genre and the maturity level of our target audience. And that the style of these scenes must remain congruent with the rest of the book so they flow seamlessly within the story.
I have read books in the past where it seems that the sex scenes were thrown in because of some arbitrary rule. They were written in a different style from the rest of the book and added nothing to the story. It seemed as if these authors thought their book could not succeed without some obligatory graphic sex. These scenes actually detracted from what could have been a good story.
I expect there are those who would argue otherwise, but in my opinion, even in scenes meant to arouse the reader, this can be done more effectively with suggestion and nuance than with overt graphic references to every body part and the actions taken on or with them. I find subtlety much more effective in drawing me into the scene … and in making my temperature rise.
So a question remains. What is the most appropriate approach to achieve the purpose for which a sex scene is written? Is there a time when graphic sex scenes are necessary? What would that be, aside from possibly pornography? Or is it needed even there?