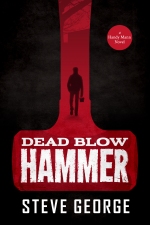 Author Steve George is pleased to announce the release of his new suspense novel, Dead Blow Hammer.
Jim Mann has a peaceful life. He trades grain commodities out of his house in a western suburb of Minneapolis, but he spends most of his time helping his neighbors. Everyone on Barbosa Street thinks of him as Handy—but not every neighbor can be trusted.
Dead Blow Hammer tells the story of how one misstep—in this case, the first step on the stairway to Angie Stinson's bedroom—drew Handy Mann into a life-or-death struggle with evil he never imagined could be so close at hand, a struggle he will need every tool in his tool box to survive.
Dead Blow Hammer was released in December 2012 and is currently available from Amazon.com and Amazon UK.
---