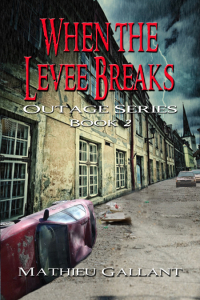 Author Mathieu Gallant is pleased to announce the release of his new apocalyptic science fiction novel, When the Levee Breaks.
In 2026, Robert Hendricks is searching for a place to hole up. The power grid is in shambles, and things are getting desperate. After a string of bad luck, and a decision to pitch in with relief efforts at the Saint John Regional Hospital, he comes face-to-face with his destiny, 153 years in the future. The story is only half told, and the worst is yet to come. What terrible memories still await the reclusive cab driver from Atlantic Canada?

When the Levee Breaks was released on December 31, 2012 by World Castle Publishing and is available from Amazon.com and Amazon UK.
---