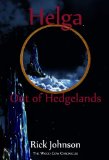 Twelve-year-old Helga has more danger in her life than most beasts her age—Wrackshee slavers after her, an attack by bandits that nearly kills her, a race against dragons pursuing her, and leading a rebellion against the insidious WooZan. And that is just the beginning. What do you expect from a young beast who just can't accept things as they are? Taking on not just one, but two all-powerful, supreme tyrants in two different realms, Helga and her eccentric comrades defeat tyranny and slavery not by battling to the last beast standing, but by being the first to think differently.
Helga: Out of Hedgelands, the young adult fantasy novel by Rick Johnson, is available through Amazon.com and Amazon UK.

Don't forget, you can cast your vote for trailer of the month on March 30, 2013 at 5 p.m. Pacific time.
---