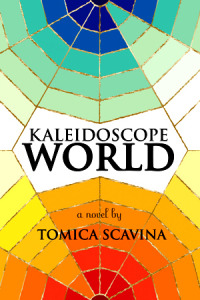 Today we have a sneak peek of author Tomica Scavina's new mystery novel, Kaleidoscope World.
A collector of kaleidoscopes and lousy relationships, Dahlia Kasper moves from New York to Barcelona and starts living in an apartment where her father was murdered when she was four. Her favorite kaleidoscope becomes a gateway to another dimension where she encounters a ghost of a famous physicist who tries to persuade her that reality is like a moth-eaten sweater – full of holes. He needs her to help him plug up these holes and save the world from vanishing, while the only thing Dahlia really wants to save is her sanity.
Kaleidoscope World  is available from Amazon.com and Amazon UK.
And now, an excerpt from Kaleidoscope World… Continue reading "Sneak Peek: Kaleidoscope World"