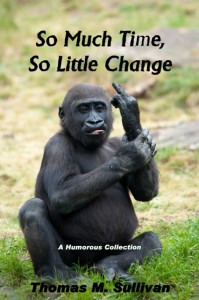 Author Thomas Sullivan is pleased to announce the release of his new humor collection, So Much Time, So Little Change.
Life is full of awkward events seemingly designed to annoy us like searching for an old-school barber, but landing at a frantic corporate salon that smells like a meth lab; running late for a flight, only to end up on The Terrorist Watch List; watching The Peoples Court with a stranger in the world's gloomiest bar; fixing up a house knowing nothing about home improvement; and much more wonderful absurdity.
So Much Time, So Little Change was released in February 2013 by Wayman Publishing and is currently available from Amazon.com and Amazon UK.
---