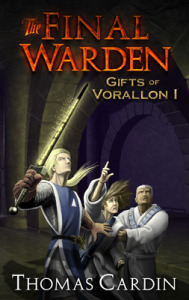 Author Thomas Cardin is pleased to announce the release of his new high fantasy novel, The Final Warden.
While hordes of demons and raiders of Zuxra ravage the world of Vorallon, people of pure spirit have made the pilgrimage to the fortress city of Halversome. Now, after a season without word from beyond their walls, a new pilgrim has arrived. Though scarred and bereft of memory, Lorace bears an orb of godstone that proclaims him a chosen hero of the Old Gods. He must undergo the Ritual of the Forge where the godstone will become a weapon of destiny. Haunted by nightmares and uncertain of the trust placed upon him, can Lorace become the Final Warden Vorallon needs?

The Final Warden was released on January 26, 2013 and is currently available from Amazon.com and Amazon UK.
---