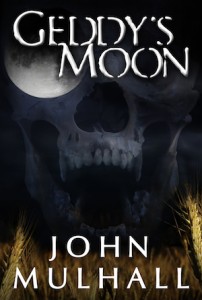 Author John Mulhall is pleased to announce the release of his new supernatural thriller, Geddy's Moon.
Geddy's Moon is a supernatural thriller centered around Tyler, an amnesiac, drifting aimlessly, struggling to regain his lost memories. When he arrives in Geddy's Moon, a sleepy town in the middle of the Kansas wheat fields, he finds himself tormented by nightmares that grow more unsettling each night. What horrific events took place before Tyler arrived in Geddy's Moon? As the pieces of his fractured memory begin to fall into place, he fears that it may already be too late to keep himself, and those he's begun to care about, safe from a vicious evil.
"This is definitely a page turner that will have you on the edge of your seat the whole time!!" – Nicole J.'s Book Blog.

Geddy's Moon was released by Blanket Fort Books on February 20, 2013 and is currently available from Amazon.com and Amazon UK.
---