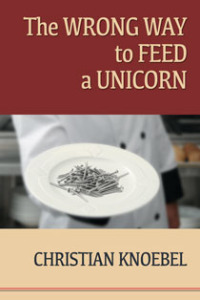 Today we have a sneak peek from author Christian Knoebel's fantasy/action adventure book, The Wrong Way to Feed a Unicorn.
Charles wants to keep his 13-year-old daughter, Lexi, happy even if it means taking care of a manipulative, potty mouthed unicorn that continually insults his hospitality, intelligence and manhood. But when it comes to food they have a problem. To placate the unicorn, Charles finds himself hunting one of the world's most expensive ingredients in a crime-ridden neighborhood known for its grisly dealings with outsiders.
Along the way he meets a long-lost high school friend with a fast-food job and unusual knowledge of haute cuisine, a voodoo-wielding faith healer and his gun-toting bodyguard, a nearsighted stripper with a taste for knives, and her jealous boyfriend who confronts Charles for stealing his girl. Only one of them will walk away.
The Wrong Way to Feed a Unicorn is available through Amazon.com and Amazon UK.
Here is an excerpt from The Wrong Way to Feed a Unicorn… Continue reading "Sneak Peek: The Wrong Way to Feed a Unicorn"