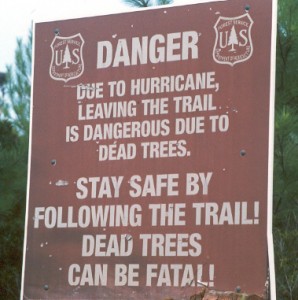 It wasn't the hurricane: at least not directly. Maybe the storm winds had carried the virus from its point of origin.
By now, everyone knew about the zombie apocalypse. The human zombies had turned out not to be the worst problem.
Nobody had thought about the dead trees—or the undead trees as they were now known.
One of those damn trees got his dog. That was it for Mike. He eyed the sign one last time, fired up his chainsaw and stepped off the path…
In 250 words or less, tell us a story incorporating the elements in the picture. The 250 word limit will be strictly enforced.
Please keep language and subject matter to a PG-13 level.
Use the comment section below to submit your entry. Entries will be accepted until 5:00 PM Pacific Time on Tuesday, March 5th, 2013.
On Wednesday morning, we will open voting to the public with an online poll for the best writing entry accompanying the photo. Voting will be open until 5:00 PM Thursday.
On Friday morning, the winner will be recognized as we post the winning entry along with the picture as a feature. Best of luck to you all in your writing!
Entries only in the comment section. Other comments will be deleted. See HERE for additional information and terms.