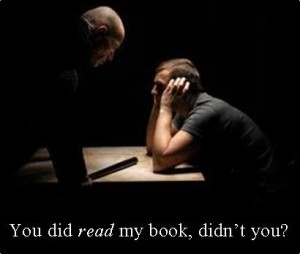 Guest post
by Ken La Salle
I coined a new term today, which I'm calling "Audience Anxiety".
Here's how it came to be: I was out having breakfast with my best friend, Sean, this morning. (As it turns out, most of my Indies Unlimited pieces are inspired by breakfast.) I was telling him about the new podcast – So Dream Something, now available for FREE on iTunes – and asked him if he had listened to the most recent episode. Sean gave me one of those looks. You probably know the look. It was one of those, "Oh no. He's hitting me up for something again," looks. I usually see those when I'm talking up my new book, article, podcast with my friends and family. It took a few moments for Sean to get his response out, a rather sheepish sounding, "Uh, no. I haven't."
I've noticed there's no better conversation killer than when I start asking people how they're digging my new writer stuff. You know why? Because they're not.
There's a simple explanation why they're not. Because they can't!
And that's why I'm writing to you today, because I'm sure you've run into this yourself with your families and friends. Maybe you see them as a source of support. Heck, it's only natural. But I'm here to tell you that's a losing strategy.
Emotional support? Sure, friends and family should always be there for that. But the kind of support where they buy your stuff and read your stuff? Where they're your biggest fan? No. Absolutely not.
Because, like I said, they just can't do it. It's expecting too much out of them.
They're only human, after all. They've got jobs and families and homes to keep up. They've got pets and chores and maybe even kids to take care of. They've got things to do and DVR'ed shows to watch and… and even if they didn't, even if they had none of that, think about the pressure? "Hey Bill? Have you bought my new book? What about the new blog? Have you read it? What did you think? You know, I'm guesting on a podcast next week. Don't forget to listen."
I know your instinct is to enlist your friends and family when you're starting out – and when you're starting out, that's no problem. You only have one book then, maybe a novella, maybe a short story collection. It's easy to read and the commitment isn't too overwhelming. In my own case, though, I've come to realize that it's too much to expect after a while. Hell, I've got over a dozen of books out there and sometimes I'm lucky enough to have a play produced. I write two weekly blogs, with an article on the Recovering The Self site each month, and some articles here on Indies Unlimited. I host a podcast twice a month and I update my website each week. I post on Facebook and Twitter. Keeping up with me at this point could be seen as a full time job!
That's why, when Sean gave me his sheepish "Uh, no. I haven't." I let him know that I didn't mind. It wasn't a requirement, after all. Besides, expecting that much help out of friends and family is thinking small.
Really. How many close friends and family do you have? Most of us only have about a dozen or so – no, those big numbers of Facebook friends and Twitter followers do not count. And I don't care how supportive they are, a dozen book sales means nothing.
You've got to think bigger, beyond those friends and family. Sure, they were essential when you were starting but after a while you have to move beyond them. You have to build your audience and expand them to people who follow you because they like what you're doing and not because they'll feel guilty at Thanksgiving dinner.
All this leads me to my newly coined term, Audience Anxiety. In the story about my breakfast, Sean had anxiety over feeling like he had to be my audience. And that's just wrong. I'm never going to have a loyal readership who does it out of guilt. And so, my own audience anxiety has to move on from my first audience (those friends and family) and into a more rewarding audience – you know, those total strangers who probably don't give a damn about me.
Scary, isn't it? Somehow, I've reached the point where I'm learning to let my first audience go. Facing the anxiety of that second, bigger, scarier audience… that's still going to take a little work.
---
Ken La Salle is an author and playwright out of Anaheim, California. His passion is intense humor, meaningful drama, and finding answers to the questions that define our lives. You can find his books on Amazon and Smashwords and all major etailers. His philosophical memoir, Climbing Maya, is available in ebook and paperback. His audiobook, The Worth of Dreams The Value of Dreamers, is available on iTunes, Audible, and all major etailers. You can follow Ken's writing career on his website at www.kenlasalle.com.