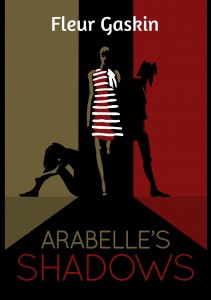 Today we have a sneak peek from author Fleur Gaskin's young adult novel, Arabelle's Shadows.
Arabelle's life is coming together. She's confident, she has great friends, and she's dating Naak! But Bangkok has too many models. Arabelle's broke and Naak isn't as wonderful as he first appears. Slowly the Shadows creep back into Arabelle's mind, bringing with them thoughts of hopelessness and despair. The vile Shadows know something Arabelle's refusing to remember. If she's not careful, they'll use it to destroy her.
Based on a true story, Arabelle's Shadows takes us on a journey through the struggles of growing up, not quite making it as an international model, and attempting to overcome a crushing depression.
Arabelle's Shadows is available through Amazon.com, Amazon UK, Smashwords,  Kobo, and other online retailers.
Here is an excerpt from Arabelle's Shadows…
I awoke to find myself on a lumpy bed so big I'd turned myself horizontal in the night. In the bathroom I discovered there was no toilet paper, no towels. My stomach was grumbling and my mouth parched. I was desperate for water but wise enough to know not to drink from the tap.
The night before Fa had told me I wasn't going to be in the show. "You are not ta??? enough." She repeated herself a couple of times but still to this day I have no idea if she said you are not tall enough or you are not Thai enough. Honestly I think she was just being kind. It must have been because I wasn't good enough, period. I should've tried my best on the catwalk instead of pretending to not care. But even then, who knows if they would've taken me.
As the entire agency was busy with the show I was left to look after myself for the weekend. From my small concrete balcony I could see what looked like a shopping mall. I pulled on shorts and a singlet and headed out to find it.
If I'd turned left when exiting the building I would've walked to the main road, crossed the pedestrian over-bridge and ended up in the mall's parking lot. Instead I turned right.
I walked down a narrow lane that led me into Klong Toey market. The stalls, mainly vegetables, were blankets on the dusty ground, the produce spread upon them. Live ducks were sitting in cages opposite a table of cooked ducks. I felt my cheeks reddening from the heat and then from embarrassment. The shoppers and stalls owners were all staring at me. They watched as I wandered around, clearly disorientated. When I spotted an over-bridge I hurried to cross it, desperate to escape the market's judging eyes.
This time I headed east. Turning the corner I almost squealed with relief. There in front of me stood the famous golden arches. It was the first familiar building I'd seen since arriving in Bangkok. Before I reached McDonalds, I came across a 7-Eleven tucked in amongst a series of small concrete shops. I bought water and a bread roll filled with sweet red bean paste then continued walking.
The shopping mall turned out to be opposite the McDonalds. Downstairs was filled with fast food chains, upstairs Lotus. An enormous store like Kmart, Lotus, had household goods, clothes and a supermarket all in one. Armed with toilet paper, a towel, water and a trolley full of food I left Lotus then realised I had no idea where my building was. A truck taxi driver, guessing I was lost, approached me and with gestures guessed where I lived. I gratefully paid him the forty baht he charged me for the two-minute drive back to my apartment.
---