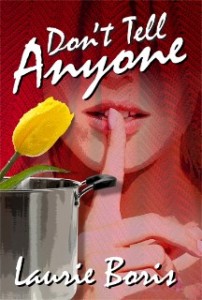 Don't Tell Anyone
by Laurie Boris
Genre: Contemporary fiction
Word count: Approx. 65,000
Landing in the emergency room nearly unconscious from pneumonia, sixty-five-year-old Estelle Trager is forced to admit that she's been living with potentially malignant tumors in both breasts…for five years. Now her son Adam and his wife, Liza, know about her deadly secret. Adam is hurt and outraged to learn that his mother had intended to take this to her grave. But Estelle, who watched her mother and grandmother suffer from breast cancer in the days when no one dared speak its name, has no intention of putting her family or herself through the horrors of cancer treatment. Estelle decides there is only one solution: ask Liza, the thirty-three-year-old daughter-in-law she once called a godless hippie raised by wolves, to kill her.
A horrified Liza refuses and keeps the request—among other things—a secret from her furious husband. But she tells his charismatic younger brother, Charlie, a close friend from college with whom she shares her own confidences, despite Adam's serious case of sibling rivalry. Armed with nutrition textbooks and her neighbor, a savvy nurse, can Liza win over her mother-in-law and convince her to consider other options before the cancer, the secrets, and Estelle's determination to end her life win out?
This book is available from Amazon, Smashwords, and Barnes & Noble.
Laurie, how did you come up with the title for your book? Does it have any special meaning? 
The working title was The C Word. But it was in use for several cancer memoirs. So I played with the idea of confidentiality. After brainstorming about two hundred possibilities, I liked the sound of Don't Tell Anyone. Plus, nearly all the characters say this at some point in the story.
Who was your favorite character and why?
I didn't always like Liza, but I empathized most greatly with her. Bringing the calm logic to this dysfunctional family, just wanting to honor Estelle's wishes. I admired her practical nature, her desire to do the right thing, and I ached for her lingering, impossible attraction to her adorable brother-in-law.
Does your book have any underlying theme, message, or moral? 
As much as our loved ones may not like it, we of sound mind deserve the right to make decisions about our own fates. That said, because they love us, our loved ones have the right to spout off about it. We're all one big, happy family, no matter how unhappy we are.
What would/could a reader or reviewer say about this book that shows they "get" you as an author? 
For some reason, I attract flawed characters. When a reader says that even though such-and-such was a total miscreant, mama's-boy, passive-aggressive jerk but he or she loved and understood him anyway, I know the readers "gets" me and that I've done my job.
Give us an excerpted quote from your favorite review of this book: 
"….Ms. Boris did it all. She told a good story, gave me believable characters and dialogue, and added in some humor as well. I didn't want this book to end." – Lynn Schneider
Where can people learn more about your writing?
http://laurieboris.com