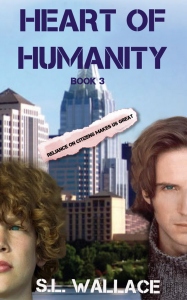 Life in the peaceful, technologically advanced realm of Mediterra is all eleven year-old diabetic Noah can remember and all his sister, Nadine, has ever known. Due to the edicts of the new President of Mediterra, the family must return to their father's homeland of Terene: a hostile, prejudiced society. Noah is told things there have supposedly changed for the better, but after standing up to the baddest bully at school, he becomes more of a target than he ever imagined possible. Are Noah's heart and will strong enough to rise above the onslaught?
Heart of Humanity, the dystopian political thriller by S. L. Wallace, is available through Amazon.com, Smashwords, and Amazon UK.

Don't forget, you can cast your vote for trailer of the month on March 30, 2013 at 5 p.m. Pacific time.
---