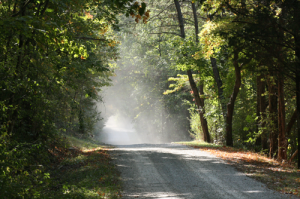 Welcome to The Learning Curve. This is where I chronicle my adventures as a new writer. The goal is to inspire you to put that bag of chips down, step away from the television, and tell the world a good story.
The Light
Technically, I wanted to name this article 'What to do when the light at the end of the tunnel turns out to be a firefly and you end up banging your head against the wall, lost in the dark.' The Evil Mastermind told me it was too long, so I tried again. 'Do not go into the light or you can expect to be blinded and burned.' He told me this was too long as well, and then hinted I might want to keep it light for the readers. Yes, friends, the light went on inside my head and I came up with the title you see at the top. It really is a lot of hard work being a writer. Thankfully, the minions here at Indies Unlimited have TEM to help us focus our thoughts.
Sadly, he's not around in the middle of the night while I sit in front of the computer looking at the last twenty-thousand or so words I've spent a few weeks writing. If he were then he might be able to tell me where I went wrong. The story just doesn't flow the way I want it to. There are too many characters, and each of them has a story worth telling.
Last month I wrote about the magic in writing, when everything comes together to form that perfect rush of words – it flows, and it's magic. You can imagine my surprise when I found that once again I set myself up for a challenge. I refuse to call them mistakes. TEM explained to us that there are no mistakes, just opportunities, and challenges to overcome. With this in mind, I read through the story thus far and realized he was right. They were all great characters, but the story should be about one in particular.
If I could use an example…The Lord of the Rings had a cast of characters that could keep the Actors Guild rolling in membership fees for a decade, but the story itself centered on Frodo.
This is what I failed to see, and my story reflected it. I spent three weeks telling the stories of more than half a dozen characters. Though all the stories would eventually merge, it gave the reader no sense of whom to root for. Now I knew what the problem was and I set about fixing it. The original goal was to use as much material from the first draft as I could, but then another opportunity presented itself.
Focusing on a central character made the stories of all the other characters change as well. They were the supporting cast now, and though I could include their stories, I had to write them in and around my main story-line and character.
Three weeks later and I have 26k words, and with the exception of a few lines, I copied nothing verbatim from the original draft. At roughly 8.5k words a week, that's magic for me.
Now, I told you all of that to tell you this:
There are a couple of ways to start a new project. You can outline it to death and create detailed character sheets, or you can write. The last time I spent three weeks on an outline I ended up setting the story aside later in the year because it lost whatever magic it had. On this project I spent three weeks actually writing the story I thought I wanted to tell, only to find that it made me question some key things. The main character I have now is not the character I would have picked at the beginning of this project to lead the story. In fact, the main character I have now did not even exist in the first version.
Do you get what I'm talking about, dear author in training? If you write your stories out, using whatever outline you quickly put together, then you should get a feel for each character. They will talk to you if you let them, and they will show you the light. Keep in mind that whatever you write may end up differently than the way you planned; that's part of the magic. It will need to be edited, and things may change. Just don't get discouraged. If you are banging your head and can't see the light at the end of the tunnel, then pick up a pen and some paper and dig your way out.