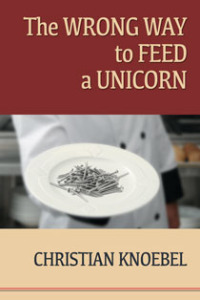 Today we have a sneak peek from author Christian Knoebel's fantasy/action adventure book, The Wrong Way to Feed a Unicorn.
Charles wants to keep his 13-year-old daughter, Lexi, happy even if it means taking care of a manipulative, potty mouthed unicorn that continually insults his hospitality, intelligence and manhood. But when it comes to food they have a problem. To placate the unicorn, Charles finds himself hunting one of the world's most expensive ingredients in a crime-ridden neighborhood known for its grisly dealings with outsiders.
Along the way he meets a long-lost high school friend with a fast-food job and unusual knowledge of haute cuisine, a voodoo-wielding faith healer and his gun-toting bodyguard, a nearsighted stripper with a taste for knives, and her jealous boyfriend who confronts Charles for stealing his girl. Only one of them will walk away.
The Wrong Way to Feed a Unicorn is available through Amazon.com and Amazon UK.
Here is an excerpt from The Wrong Way to Feed a Unicorn…
There is no right way.
The Agway sells horse feed, not unicorn feed, and this unicorn — the one living in my chicken coop — soon tired of eating it. He was not shy about a change. "Did you get the grub I wanted, Stupid?" he said to me one night.
The unicorn took pride in calling me Stupid. He was an insulting, potty mouthed jerk. He was impatient and beat the drama drum when I refused to give him every dopey thing that popped into his head. He made middle-school boys look like statesmen. Babies were shocked by his lack of control.
For my daughter Lexi's sake I put up with every insult and crack he threw at me. The unicorn made Lexi happy, which made me happy. But the happier Lexi became the more aggressive he was with me. On some level he understood better than I did how much effort I was willing spend to make my daughter happy. And let me tell you, keeping an incorrigible jackass under control takes work, and work takes time, and thanks to long hours and the daily nonsense of the office I was soon short of it and patience. My life became a miserable slog, but suffering is what it takes to be a good father these days.
The unicorn had wormed his way into my life during an emergency hiking trip I took to protect my sanity. The annoying guy in the office next door, his name was Lucas, pushed me over the edge one afternoon. "It's just walking pneumonia, Charles," Lucas said after sneezing on my computer monitor. He popped into my cube to show off his latest Facebook post, something he did several times a day and which usually involved tagging Star Wars photos as himself. He and the other 9,427,513 Obi-Wannabe-Kenobis on Facebook tagged pics of Boba Fett, Mace Windu, Darth Maul and every other character with their own names. That is every character except Jar Jar Binks. Nobody tagged him.
I couldn't risk a week in bed afflicted with Lucas's pneumonic funk and figured the best defense against his bugs and my dwindling wits was to voluntarily commit myself to an adult Time Out. The next morning I called in sick and escaped to a familiar hiking trail. The day was warm for late fall, the sky was free of clouds, and being a weekday the woods were clear of annoying sneezers whose only point in life was to suck precious time out of my day with pointless distractions.
Understand my surprise when a unicorn bounded out of the mountain laurel and stopped in front of me. If only my Lexi was here. She'd go nuts. It was a unicorn — white with a sharp horn, mane and little beard, though it was on the skinny side and looked gaunt. They're not supposed to exist, right? I mean you have a better chance finding an honest politician or scoring seats on Ticketmaster without added fees or reselling your timeshare at a profit before you see an actual unicorn. This was cool.
Cool, that is, until it sneezed in my face. "This walking pneumonia is killing me," he said.
---