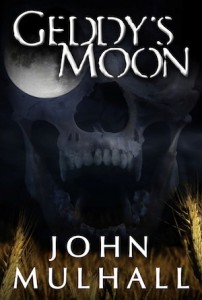 Geddy's Moon
by John Mulhall
Genre: Horror (Supernatural Thriller)
Word count: 121,095
Tyler is an amnesiac, drifting aimlessly across the country, struggling to regain his lost memories. When he arrives in Geddy's Moon, a sleepy town in the middle of the Kansas wheat fields, fragments of his past begin to resurface. But as he establishes new relationships in town, and spends time with the local librarian and her son, he finds himself tormented by nightmares that grow more unsettling each night. What horrific events took place before Tyler arrived in Geddy's Moon? And could he have brought a terrifying – and possibly supernatural – danger along with him? As the pieces of his fractured memory begin to fall into place, he fears that it may already be too late to keep himself, and those he's begun to care about, safe from a vicious evil.
This book is available from Amazon.
How did you come up with the title for your book? Does it have any special meaning? 
The title of the book refers to the small fictional town in Kansas where the lead character finds himself at the beginning of the novel. The name, Geddy's Moon, doesn't have any special meaning, aside from being meant to evoke a certain sense of place and tone.
Who was your favorite character and why?
It's actually difficult for me to talk about my favorite character without spoiling certain elements of the book, but I will say that my favorite character definitely ended up being someone I didn't expect. That was a pleasant surprise for me as a writer.
Does your book have any underlying theme, message, or moral? 
I tend to write to theme. With Geddy's Moon it was about cycles of life, the normalcy of being born, growing into adulthood, passing away, and hopefully leaving a legacy. A balance exists that we, as humans, seek to disrupt in a quest for longevity. Geddy's Moon explores that.
What would/could a reader or reviewer say about this book that shows they "get" you as an author? 
The best thing a reader could say about Geddy's Moon is that it surprised them. I think many people have preconceived notions about the horror genre. If my book is a pleasant surprise, that's one of the best compliments I could receive. That was one of my goals setting out.
Give us an excerpted quote from your favorite review of this book: 
"Geddy's Moon caught me totally off guard. I had never been much of a fan of the thriller genre but this book is a game changer for me."
Where can people learn more about your writing? 
http://www.johnmulhall.com/blog/