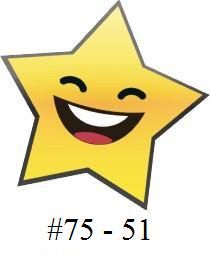 Happy Friday the 13th everybody, and in honor of this spooky date…okay, it has nothing to do with the spooky date.
Instead, we now resume our regularly scheduled programming to count down The Novel 100: A Ranking of the Greatest Novels of All Time by Daniel S. Burt, accompanied by real one-star reviews from real readers. Last week we went from #100 to 76, so today we'll take it to halftime.
Just to reiterate, I am not doing this to make fun of the reviewers, and actually there are more than a few reviews here I agree with completely. My only point, cheerfully offered, is to remind us all as authors that reviews (at least in this social media world), are nothing more than one reader's opinion. And for absolutely any book ever written, someone is going to be of the opinion that it sucks eggs.
On with the show:
(reviews not edited for grammar)
75 The Last Chronicle of Barset (1866-67) Anthony Trollope
"I have finally come to the conclusion that I am just not into books that deal with 17th and 18th century English life."
74 Brideshead Revisited (1945) Evelyn Waugh
"This is an empty, worthless novel written by a whiny, prissy man about other whiny, prissy people who lament the passing of an era when their unearned privileges were intact and unquestioned."
73 A Farewell to Arms (1929) Ernest Hemingway
"Horny soldier meets equally horny nurse and they pretend they are in love until they decide, what the heck, we are so constantly horney that maybe we are really in love."
72 The Death of Artemio Cruz (1962) Carlos Fuentes
"It is written for a very select small elite of intellectuals interested in this episode of Mexican history. Whatever that was…"
71 Cities of Salt (1984-89) 'Abd al-Rahman Munif
"I was assigned this book in a college English course at the University of Chicago. The book is so boring that almost the entire class mutinied and stopped reading it halfway through."
70 Berlin Alexanderplatz (1929) Alfred Doblin
"a German version of James Joyce."
69 Hunger (1890) Knut Hamsun
"another 'tortured-artist-suffering-for-his-work' wankfest."
68 U.S.A. Trilogy (1930-38) John Dos Passos
"To any reader out there seeking an American chronicle that captures multiple perspectives, understands diversity of experience, and gives voice to its people, read Studs Terkel."
67 Call It Sleep (1934) Henry Roth
"The main character is a whiny, snivelling, cowardly little boy who goes around living in fear."
66 Germinal (1855) Emile Zola
"I don't remember this book, which probably means I didn't get through much of it. And didn't understand the rest."
65 Herzog (1964) Saul Bellow
"Wonderful opening line. All the way downhill from there."
64 A Passage to India (1924) E. M. Forster
"(I)t feels like India's Uncle Tom's Cabin. More novel, less preaching, please."
63 The Awakening (1899) Kate Chopin
"I used to sympathize with Victorian women who were stuck in a relationship/marriage that damaged them psychologically. Reading this book, though, made me think otherwise."
62 The Good Soldier (1915) Ford Madox Ford
"I really, really hated this book. It's written not like a novel, but like the author is talking directly to you, which is weird."
61 The Age of Innocence (1920) Edith Wharton
"Sorry, ladies of past, but I pretty much dislike all novels written by females of the past that deal with courting, petticoats, horses, the like."
60 The Counterfeiters (1926) Andre Gide
"I found the title interesting."
59 My Antonia (1918) Willa Cather
"This book is a well written account of a terribly boring life, and if that's what you're looking for, this is probably your kind of book."
58 The Stranger (1942) Albert Camus
"Guy goes around and does stuff. Guy kills someone for no discernible reason. Hilarity ensues!"
57 The Princess of Cleves (1678) Madame de Lafayette
"Ugh. I've never read of so many men who cry more than the women. Ugh."
56 Things Fall Apart (1958) Chinue Achebe
"This guy's a total jerk with serious daddy issues. Predictable and boring, table for two."
55 Petersburg (1916/1922) Andrey Bely
"I guess my assesment of Bely must be entirely subjective."
54 The Grapes of Wrath (1939) John Steinbeck
"(R)eal life doesn't always have neat little story arcs that tie off nicely in appropriate places, I still feel that novels should."
53 The Red Badge of Courage (1895) Stephen Crane
"Maybe the fact that I'm not a great fan of civil war history worked against me."
52 Jane Eyre (1847) Charlotte Bronte
"(E)ssentially "Twilight" from the nineteenth century – a bunch of wholly undesirable guys who are falling head over heels in love with a girl who is described as "plain" and is downright boring."
51 The Trial (1925) Franz Kafka
"A tome of existentialist tripe so bleak and pointless there isn't even a trial."
(To Be Continued)
And, of course, the article which started it all: Everyone is a (one) Star