Quick heads up: Since I only uploaded my one book, I didn't anticipate a problem with this. Apparently, you can't upload more than one book unless you have a separate Facebook page for each one. This is important information BookPulse might want to place front and centre, just sayin'.
There are some things I am extremely lazy about. Unfortunately, one of those things tends to be self-promotion. I am not good at it and have no great love for it. Actually, it's worse than that: I actively dislike it. But we're constantly told (let's be honest, "harangued" might be a better word) that it's an essential part of the writer's toolkit… and not only independent writers but those poor captives of the publishing industry, the traditional writers, too. I kid, of course: we are all brothers and sisters of The Mighty Word, and "Kumbaya" sounds exactly the same when sung by my gruel-spattered co-minions as it does in the lofty yet slightly sterile halls of Simon & Schuster… although the soft moans of existential despair accompanying the former can be a little disconcerting.
But I digress. As I tend to do. Probably because I can already feel the ennui descending as my main topic looms like a grey, haunted, driverless engine on a fog-blanketed night.
So. Once in a while, I break out of my truculent, indolent recalcitrance and stumble on something potentially useful to our collective writerly aspirations. (Apparently, I also break out the Thesaurus.)
A recent case in point was a link I saw to something called BookPulse. It's currently a free service (but not after October, so if you're gonna do it, don't procrastinate) that provides tools to help market your books via an app on your Facebook page. Okay, trust me, that's not as complicated as it sounds. It just ends up as one of those buttons near the top of your page (note page, not timeline) where you often see Photos and Likes. The app ends up a really clean, uncluttered, yet comprehensive one-stop-shop experience easily accessible via your page and it's not too difficult to set up. And did I mention it's free until October 2012?
Okay, I'mma apologise ahead of time as I'm not a particularly linear thinker, yet I have to attempt to impart this knowledge in a more methodical way than my usual scattershot pseudo gonzo nonsense. So, here.
Step One
Go to the BookPulse home page. There, not a bad start, huh?
Step Two
Click on the big blue button that reads: Create my BookPulse Page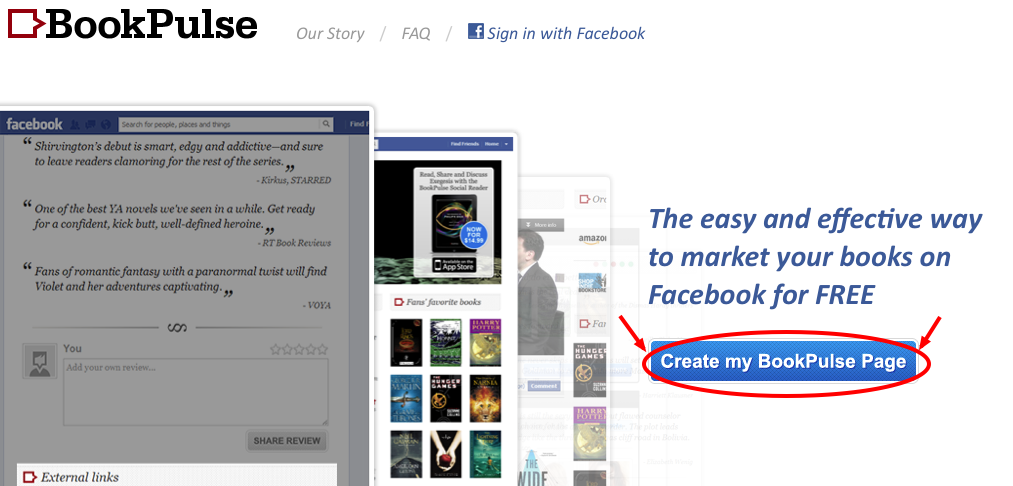 Step Three
A Facebook page appears asking you for permission to manage your page(s). Because I'm a suspicious soul, I chose to skip that and it didn't seem to hinder anything. So, click on Skip. (No, that isn't the title of a long-lost Dr Seuss book.)
Step Four
You'll now find yourself on a deserted planet made of burnt toast… oh, wait, that was a discarded story idea I had last week… no, you will find yourself on a Welcome page that basically tells you to set up a Facebook Page first before proceeding. If you already have one of those (and since you've followed this so far, you probably do), continue by hitting that same button you already hit earlier, dammit (Create my BookPulse Page)!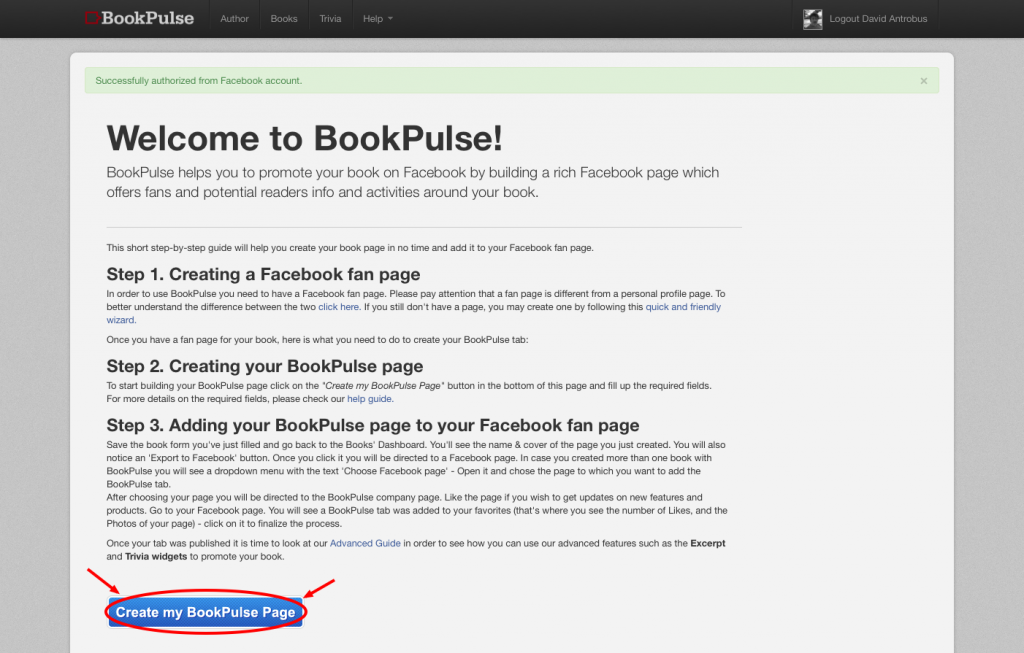 Step Five
The next page is the motherlode. Here you upload a high resolution book cover (they ask for 400×600 pixels, ideally), a large cover or Theme Image (this one can be fairly big, and for some reason they ask for a very specific size, 810×315 pixels, but I didn't pay any attention to that and uploaded a large photograph that captured the feel or "theme" of my book and no crazed demons leaped from my screen to berate me, so either I was lucky or this thing purrs like a Ferrari) and a bunch of other fields that should be self explanatory. Don't think this is going to take 30 seconds. BookPulse asks you for a ton of information about each title. Get a beverage and a snack. This is going to take a while.
A nice touch is an area for you to upload your YouTube trailer, and also a place you can quote the sweet nectar we call "praise". There's even a Trivia section which I haven't used yet, and which maybe a certain Rich Meyer could elucidate upon.
It really is very user friendly. Their instructions in grey text are simple and helpful. There's even a very handy Help Guide in case you get lost or stuck. Pay attention to character limits in the relevant fields, make sure you manually break between your paragraphs, and you should be fine.
Step Six
When you're done, hit the green Save button and you should be good to go. Oh, but don't forget to then click on your name and upload an author photo and a bio.
Step Seven
Another neat aspect is you can add this as a cool, interactive Excerpt Widget on your Facebook timeline, too. This will make you extra popular at parties. To add it, just click on Books on the top menu bar which should take you to your Books Dashboard. Then follow the instructions. Clicking the actual button didn't work for me, but copying and pasting the link to my timeline status field wasn't a problem. Even though, ugh, it took up a precious extra 30 seconds, internet! For shame.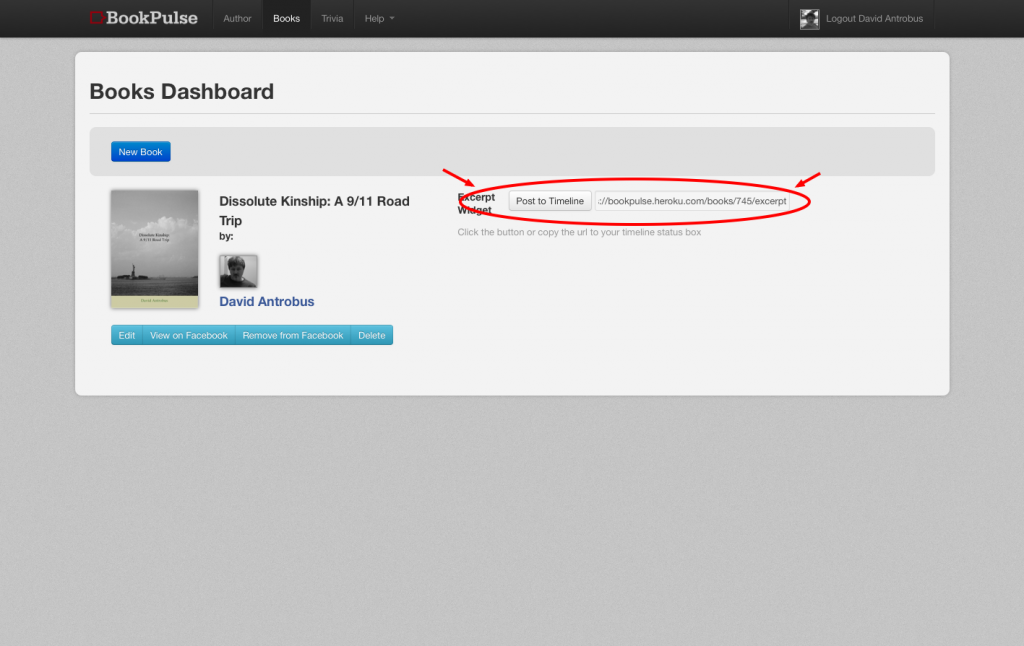 There. All done. And so pain-free. Or at least it was for me. And I generally suck at this stuff. As with anything, though, YMMV. I'll try to answer any questions in the comments section, but of course, don't expect those answers to make a lick of sense.