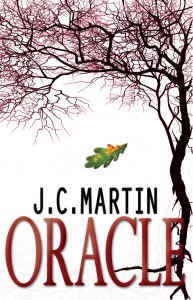 Today, we feature a sneak peek of author J.C. Martin's new crime thriller, Oracle.
As the countdown begins, the body count rises. With London gearing up to host the Olympics, the last thing the city needs is a serial killer stalking the streets, leaving behind a trail of brutal and bizarre murders.
Detective Inspector Kurt Lancer is a struggling single parent thrust into the pressure cooker of this high profile case, and as the list of potential victims grows, it becomes apparent that Lancer's daughter could be one of them.
Fingers point in every direction, and Lancer's only clue comes in the form of a single oak leaf left at each crime scene.
Oracle is available from Amazon.com, Amazon UK,  and Barnes & Noble.
And now, an excerpt from Oracle: Continue reading "Sneak Peek: Oracle"