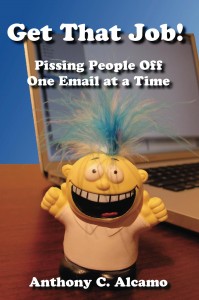 Author Anthony C. Alcamo is pleased to announce his new non-fiction humour book, Get That Job!.
With the downturn in our economy and the staggering number of people looking for work, this book will show you how to get the perfect job for yourself using some unconventional methods. These methods are shown by example, in the form of various emails chains between recruiters and myself. Many of these advanced job-seeking techniques I help you employ are intended for the sophisticated reader. Consequently this book will use strong language.
Get That Job! was released May 17, 2012 by goFurther publishing. It is available from Amazon.com, Amazon UK, Kobo and Barnes & Noble and other online retailers as an eBook and in print, as well as on the shelves at many bookstores.