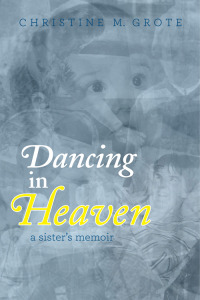 Today we have a sneak peek from author Christine Grote's memoir, Dancing in Heaven.
Annie's parents thought she was a perfectly normal child with bright eyes and a ready smile until she was about nine months old and not sitting up. They soon found out that Annie had been born with profound brain damage, and probably wouldn't live more than eight years. "Take her home and love her," the doctors said.
So that's what they did.
For 51 years.
A testament to the intrinsic value of human life, Dancing in Heaven is the story of Annie's life, death, and her significance in the lives of those who loved her.
Dancing in Heaven is available at Amazon.com, Amazon UK, Smashwords, Barnes & Noble and other major online retailers.
And now, an excerpt from Dancing in Heaven… Continue reading "Sneak Peek: Dancing in Heaven"