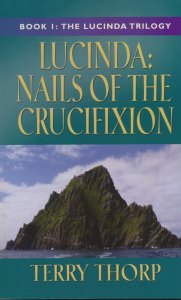 Today, we feature a sneak peek of Terry Thorp's fantasy novel, Lucinda: Nails of the Crucifixion.
Lucinda, a psychic, undertakes a quest for the Lords of the Path of Purest Light to locate two missing nails – relics from the Crucifixion Cross – with immense power for good or evil. Her adversary is the Ninth Master – a psychic working for the Fallen Lords of the Paths of Darkness. Will the nails be found in the Egyptian desert or Skellig Michael, an island off the south-west of Ireland? If she finds them, what must she do with them? Will the Ninth Master succeed in preventing her? The fate of the world rests on the choices that Lucinda makes.
Lucinda: Nails of the Crucifixion is available through Amazon.com, Amazon UK, Barnes & Noble, Smashwords and other online stores.
Here is an excerpt from Lucinda: Nails of the Crucifixion: Continue reading "Sneak Peek: Lucinda: Nails of the Crucifixion"