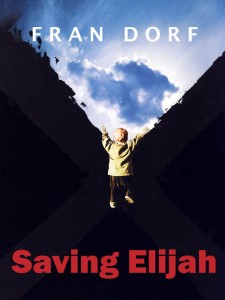 Author Fran Dorf is pleased to announce the release of her drama, Saving Elijah.
Part ghost story, part family drama, and part psychological thriller, Saving Elijah tells the story of Dinah Galligan, who while keeping a desperate vigil over her comatose son, Elijah, meets the mysterious Seth Lucien in the corridor outside the Pediatric Intensive Care Unit. A vain, outrageous spirit with a surprising connection to Dinah's troubled past, and a master seducer's awareness of her secret fears and regrets, Seth claims to know the future and tempts Dinah with a Faustian bargain: her son's life for the use of her body. What mother wouldn't willingly accept the trade?
Originally published in hardcover by G.P. Putnam & Sons, Saving Elijah was released in eBook in July 2012 by Fran Dorf's Evolution Press. It is available for Kindle through Amazon.com, and Amazon UK.
"Like the best ghost stories, Saving Elijah is chilling to read, yet it's impossible not to go on." – Wall Street Journal