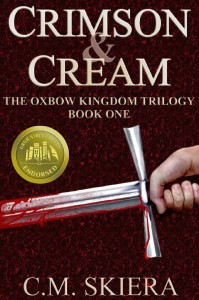 Today we have a sneak peek from author C.M. Skiera's new epic fantasy book, Crimson & Cream.
Crimson & Cream recounts an unlucky orphan boy's adventurous tale of flight and discovery as he unravels his tortured past while securing his tenuous future. The murder of Eadriel and Elvar's parents forfeited their birthright and sent them fleeing for their lives. The fugitive twin brothers were adopted by an underground orphan gang. During a risky foray, a sentry chased the twin intruders into an unfamiliar cavern. Lost underground, they encounter a strange beast that changes their lives forever, and starts a harrowing journey for survival.
Crimson & Cream is available on Amazon.com, Amazon UK, Barnes & Noble, Smashwords and other online booksellers.
And now, an excerpt from Crimson & Cream: Continue reading "Sneak Peek: Crimson & Cream"