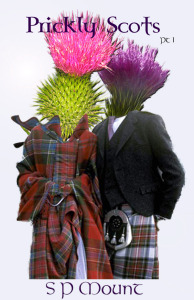 Today, we feature a sneak peek of S.P. Mount's comic epic fantasy, Prickly Scots Part I .
A feel good story with all the elements of an epic adventure, Prickly Scots is a richly described escapade with humour beating at the heart of it. Paths cross on individual life journeys as a wonderfully nuanced, largely irascible cast, human and otherwise, become embroiled in a fantastical situation; finding themselves time-travelling between three time periods in Scotland and interacting with supposedly mythical creatures such as the Loch Ness Monster and Bigfoot as a biblical artefact is sought out. The plot pulls the story along in Part II in a butterfly effect, as even the cast themselves change beyond recognition.
Prickly Scots Part I is available through Amazon.com, Amazon UK, Kobo, Smashwords and other online stores.
Here is an excerpt from Prickly Scots Part I : Continue reading "Sneak Peek: Prickly Scots Part I"