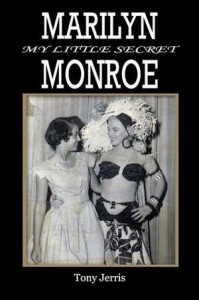 Marilyn Monroe: My Little Secret
by Tony Jerris
Genre: Non-fiction, Biographies & Memoirs
65,000 words
In 2001, author Tony Jerris met Jane Lawrence, who knew Marilyn Monroe very well. They became close friends and she told Tony her story. At 12, she started Marilyn's fan club at Fox. By the time Jane was 16, their relationship had become physically intimate.
Marilyn referred to Jane as "my little secret," hence the title of the book, Marilyn Monroe: My Little Secret. The book is a provocative, poignant, no-holds-barred account of the relationship between Jane and Marilyn, which Tony has written in Ms. Lawrence's voice.
This title is available at Amazon, and Barnes and Noble.
Tony, how did you come up with the title for your book? Does it have any special meaning?
Marilyn Monroe was always in the spotlight and being tacked by the press. Marilyn called Jane "my little secret," which was somewhat of a pact between, not only to keep Jane out of the press, but also so they could spend some quiet time together.
Who was your favorite character and why?
It's hard to play favorites, because both women led such complex lives, if not parallel ones. Neither knew their birth fathers, their mothers both abandoned them, and they each wound up in the same orphanage at different times in their lives.
Does your book have any underlying theme, message, or moral?
Just because Marilyn Monroe was so iconic, doesn't mean she wasn't human. It's no secret that she loved to surround herself with 'youth,' maybe because as a young girl, hers was so tragic. If two people can find solace in one another, be it emotional or physical, so be it.
What would/could a reader or reviewer say about your writing that shows they "get" you as an author?
I would hope that a reader gets my honesty. I've been writing for nearly three decades now, and have always made my characters 'real,' even when I'm writing fiction.
Give us an excerpted quote from your favorite review of this book:
Jerris is a maestro at storytelling and recreating the world of Hollywood Glitz and Glamour. I felt like I knew Marilyn as a friend after reading this story. Bravo!!
Where can people learn more about your writing?
www.tonyjerris.com